How to print mailing labels with Adobe Reader 10.0
Printing mailing labels is easy!
After you buy your mailing list online, you'll be able to download your list directly from the website as an Excel file spreadsheet. If you want to print your mailing list onto mailing labels, and you're not sure how to do this, don't worry – We're here to help! We can help you re-format your list from an Excel file spreadsheet into an easy-to-print mailing label format, free of charge.
When you place your mailing list order online, just email/call/chat with us to request that we email you your list in a PDF mailing label format . When you receive the email from us with your PDF label format, just save the PDF to your computer and then open the file.
If you have the newer version of Adobe Reader (ex. 10.0 or higher), you'll need to follow these 3 simple steps before you print your mailing labels – these steps will help align your mailing labels and make them print out correctly.
Step 1 : Open the PDF file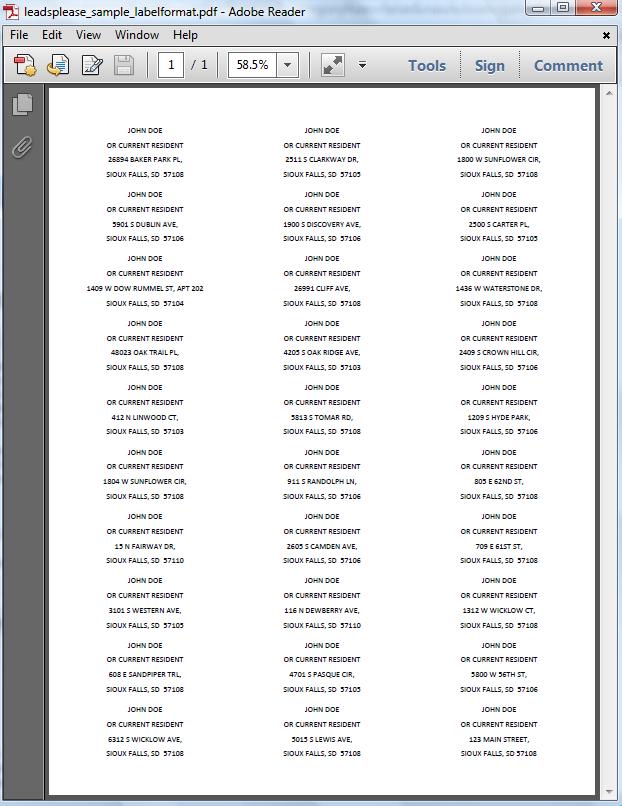 Step 2 : Click 'File', and then 'Print' to open your Print Settings box
Step 3 : Under the section 'Page Sizing and Handling', select 'Actual Size' – this will help align your labels and make them print out correctly.