Charity Donor Email Lists & Mailing Lists help nonprofits reach individuals who are likely to make a charitable donation.
Here at LeadsPlease we work with Girls and Boy Scouts of America, Habitat for Humanity, American Red Cross, US Vets and 100's of other nonprofits to grow their membership base and find chartibale donors who might donate money to their charitable causes.
What is a Charity Donors List?
A Charity Donors Contact List is a marketing list that includes the Names and Addresses of people who have donated to a charitable nonprofit in the past 12 months.
Get a mailing list of 'All Charity Donors' in a particular area, or target Donors who donate to specific types of Charities:
Animal Welfare
Arts or Cultural
Children's' Causes
Community Causes
Conservative Causes
Environment
International Causes
Liberal Causes
Minorities
Political Causes
Religious Causes
Veterans
Other
How can LeadsPlease help my nonprofit and boost charitable donations?
We work with a lot of nonprofits and charitable organizations, helping them to find potential new charitable donors, and getting the word out about their intiatives and goals.
Top 5 Ways LeadsPlease helps Nonprofits:
Nonprofit Discount for all established Nonprofits
Free Sample List
List Expert Assistance – designated List Expert to help find potential new charitable donors.
Chartibale Donors by Type (ex. Children's Causes, Environment etc)
Accepting Payment by Check and PO and all major Credit Cards
What are nonprofits saying about LeadsPlease Lists?
Maddy Mackenzie with the Skagit Community Foundation purchased a targeted Direct Mailing List from LeadsPlease to drive a successful direct mail campaign for their nonprofit. The direct mailing list that she purchased was for people who donated to Charitable organizations in the last 12 months, where the estimated Household Income was high enough to imply the ability to make charitable donations. Here's what she had to say about working with us:

What types of Businesses can Benefit from purchasing a Charity Donor Mailing List?
Any Nonprofit or Business that is fundraising for a good cause and looking to increase charitable giving, can benefit from purchasing a List of Donors.
We work with nonprofits across lots of different verticals and have gained insight into how to leverage data and marketing lists to boost memberships and increase donations.
Our seasonsed Nonprofit Customers know that people who have donated to Charities in the past, are much more likely to donate again in the future. So, before you buy a List of Chartibale Donors, it's important to ensure that everyone on the List has previously donated. While other data providers sell the Names/Addresses of people who might be interested in donating to charities, here at LeadsPlease, we only provide the Names/Addresses of people who actually have donated money previously.
Here is a list of Nonprofits who have purchased donor Lists from LeadsPlease:
Children's Hospitals
Research Societies
Homeless Shelters
Disaster Relief
Blood Banks
Political Organizations
Political Campaigns
Neighborhood Activists/Groups
Churches
Public/Private Schools
Fundraising Charitable Events
Animal Rescues
Veteran Organizations
Can I use your list to help with fundraising for nonprofit organizations?
Yes! We work with nonprofit organizations from across the country and help them with their fundraising efforts.
LeadsPlease Charitable Donor Lists help nonprofits reach potential new donors through direct mail marketing, email marketing, social media, in-person fundraising, and telemarketing.
What nonprofits have purchased Charity Donor Lists from you?
Our Charity Donor Lists have been purchased by nonprofit organizations and Charities from across the country.
A few of our loyal customers are:
How do you know if someone is a Charitable Donor?
If someone has donated to a charitable organization in the past 12 months, it is likely that their Name & Address is in our database.
Charitable Donor information is self-reported, and compiled through online and offline questionnaires, and through purchases and donations.
How accurate are your Charity Donor Mailing Lists?
Our Charity Donor Mailing Lists are 95+% accurate. This means that if you purchase a Consumer Mailing List from us, and you mail your fundraising campaign within 30 days of purchasing your List, we guarantee that 95+% of your mail will be delivered.
We honor such a high deliverability, because we clean and update our Charity Donor information so frequently.
Can I get a list of people who have donated to specific charities?
We can help you target people who have donated to specific types of Charities; for example, Animal Welfare, Children's Causes, Veterans Organizations etc. However, our donor lists for nonprofits do not include the Name of the specific charity each person donated too.
If you want to get a mailing list of people who donated to a specific charity, you would need to contact that charity directly, to see if they sell their donors' contact information.
What is GuideStar?
According to the GuideStar website:
What information is included on a Charity Donor Mailing List?
First Name
Last Name
Mailing Address
Type of Charity Previously Donated To (ex. Children's Causes, Veterans, etc)
Other Demographics if selected (ex. Age, Income etc)
Can I get a Donors List for New York?
Yes! You can get a list of charitable givers for New York or for any other state, county, city or zip code in the USA.
Do you have any partnerships with nonprofits?
We are an independent company. Although we don't have any specific partnerships with individual nonprofits, we do love working with chartibale organizations across the USA and have helped many nonprofits increase their brand awareness and boost fundraisings .
Are donations to charitable foundations tax deductible?
According to the IRS, "You may deduct a charitable contribution made to, or for the use of, any of the following organizations that otherwise are qualified under section 170(c) of the Internal Revenue Code".
Can I get a List of Emails for Fundraisers?
Yes! You can get an email list for donations to help fundraise for your organization or a specific event.
The Charity Donors Email List includes :
First Name
Last Name
Mailing Address
Type of Charity Previously Donated To (ex. Children's Causes, Veterans, etc)
Other Demographics if selected (ex. Age, Income etc)
Email Address
A charity email list of donors for charity with emails of donors is an essential marketing tool for fundraisers. The list includes the postal address and email address of charity donors, so it allows you to fundraise through direct mail and email marketing, which will result in more exposure, and hopefully more donations.
Can I use the email list to send out an email newsletter?
Yes! If you purchase a list that includes Email Addresses, you can use the email list to release any type of email communication, including an email newsletter (ex. Real Estate Newsletter).
Is email marketing cost effective?
Yes! According to the Direct Marketing Association, email marketing brings in $40 for every $1 spent.
This makes email marketing one of the most cost-effective marketing initiatives, ahead of search, display, and social media marketing.
Are your email lists 100% Opt-In?
Yes! All our Consumer Email Lists are 100% Opt-In. This means that everyone on our list has shared their email address willingly and they have given their permission to receive marketing messages via email.
How can I use your email list?
Once you purchase your email list, you can use it as many times as you like, in a number of different ways.
Some clients use the lists to advertise online fundraising events and to boost fundraising goals. While others, use the email lists to increase awareness through nonprofit email marketing.
Here are some of the most popular ways our customers use chairty donor email lists:
Increase Potential Donor Base
Boost Email Subscribers
Fundraising Emails
Brand Awareness
Event Sign-ups
Donation Forms / Donation Requests
Webinars
Follow-ups
Fundraising Events
Sign-up Forms
Testimonials
Fundraising Letters
Can I upload your list into my CRM?
Our lists come in a standard .csv file format. This Microsoft excel file is compatible with most CRMs. If you're unsure, please contact your CRM directly.
What open rates can I expect from using one of your email lists?
Email campaign open rates refer to the number of receipients who 'Open' an email.
Open rates vary greatly and fluctuate due to many factors, such as:
Email Design
Email Templates
Subject Lines
CTA (Call to Action)
Email Subject Lines
Professional Templates
Success Stories / Testimonials
How do I get Charity Donor Email Lists?
We make it quick and easy to get a donors email list online in minutes.
Start a Consumer Mailing List
Add Geography
Add all 'Charity Donors' or specify specific types of Donors
Select 'Direct Mail + Email'
Buy your list and download it to your computer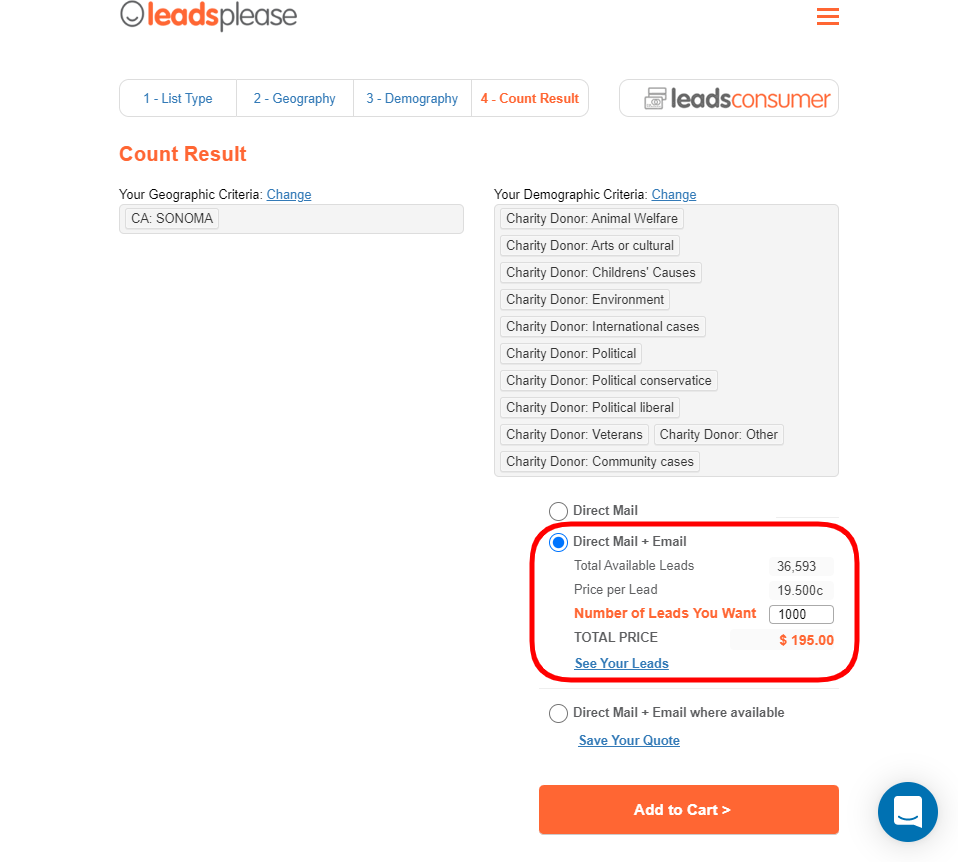 What format does the mailing list come in?
We offer 3 easy-to-use List Formats:
Excel / CSV file

PDF Mailing Label Format : This format makes it quick and easy for you to print mailing address labels (ex. Avery 5160 Labels) at home or in the office)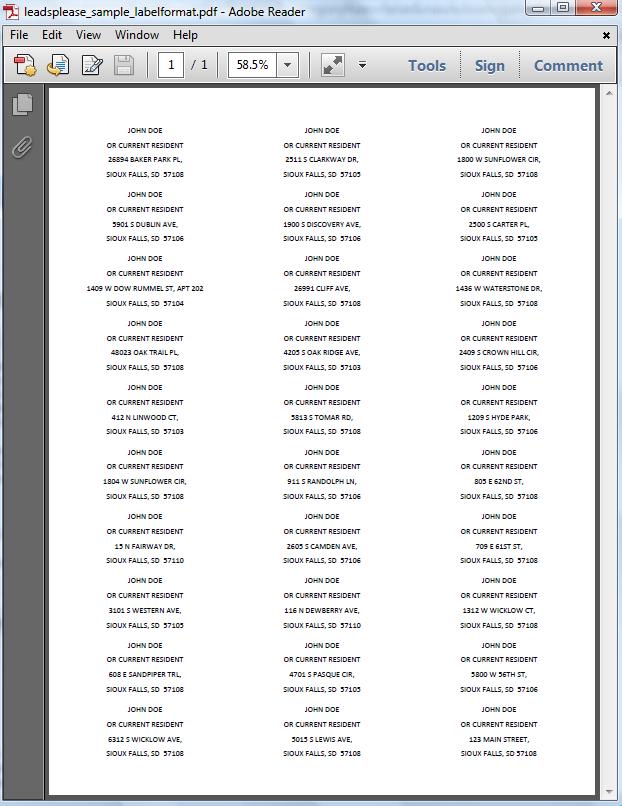 Peel & Stick Mailing Labels Shipped to You

Can I see a Sample Mailing List?
Yes! Click below to download a Sample Mailing List in CSV File Format and PDF Mailing Label Format:
LeadsPlease Sample Consumer Mailing List – CSV FileDownload
LeadsPlease Sample Consumer Mailing List – PDF FileDownload
How much does a Mailing List cost?
A Charity Donor Mailing List starts at $99.50 for up to 1,000 leads. The more leads you buy, the cheaper the cost per lead. Please visit our Mailing List Pricing page for more information.
How do I get a Mailing List?
You can purchase your mailing list on our website or with a List Specialist over the phone. On average, it takes about 5 minutes to build and purchase a Mailing List.
Helpful Resources
Happy Customers Growing Their Businesses with LeadsPlease Mailing Lists
Charity Donor Mailing List FAQs
[Q]Can I choose people who donate to specific charities?[A]Yes you can. You can find all the charity donor selects on the demography page of the consumer database.
[Q]Can I choose the 'net worth' of the charity donors?[A]Yes you can. You can find the 'net worth' select on the demography page of the consumer database. 'Net worth' is deemed 'sensitive' and requires a marketing review.
[Q]Can I add other demographic selects to a charity donor mailing list?[A]Yes you can choose as many demographic selects as you wish it makes no difference to the price.
[Q]Can we get a 'Not For profit' discount for a charity donor mailing list?[A]Yes you can. Please call us on 866-306-8674 and we can help you.