Families with Children Email Lists & Mailing Lists help Schools, Child Day-cares, Churches, Summer Camps, Clothing Stores and other family oriented businesses, find and advertise to households with children.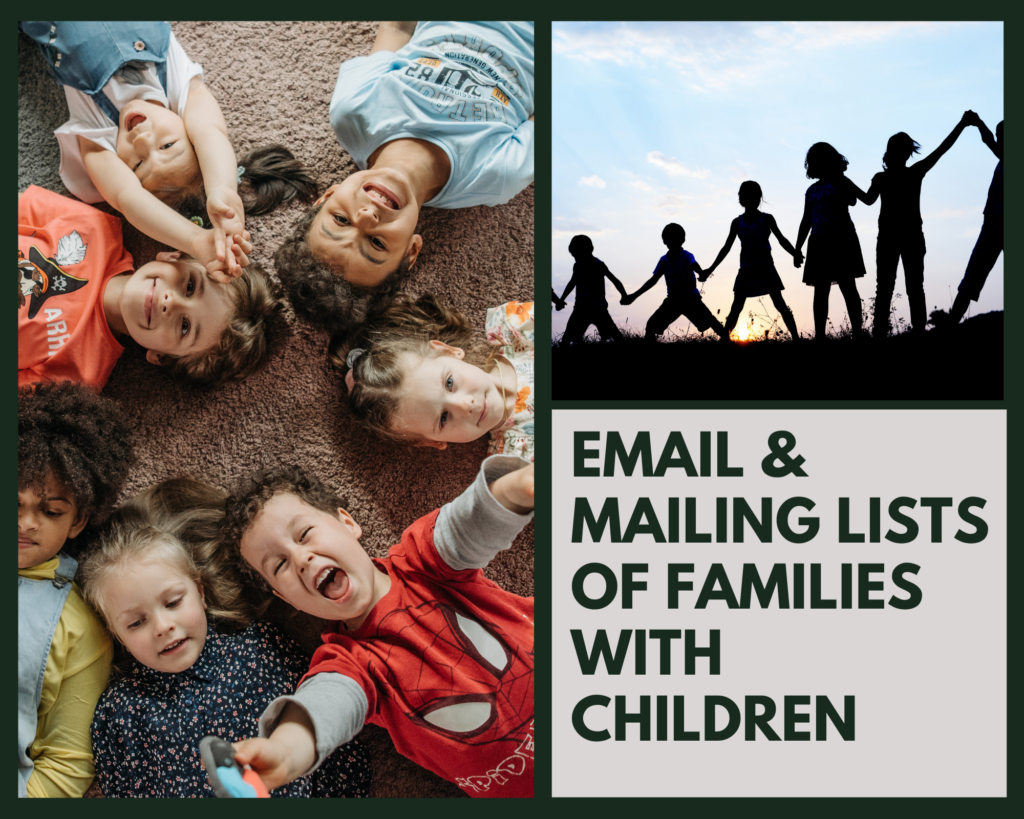 Families with Children Email Lists & Mailing Lists
These are marketing lists that include the Names & Mailing Addresses of Parents who have Children in the home between the Ages 0-18.
With LeadsPlease, Businesses can quickly find families in their area and start advertising to them within minutes.
Find all Families with Children in your area, or narrow down to Households that have Children of a specific Age or Age Range.
0-1
1
2
3
4
5
6
7
8
9
10
11
12
13
14
15
16
17
Can we narrow down to the Gender of the Children?
Yes! You can narrow down by the Age of the Children, and by Gender.
This is extremely important for businesses that offer gender specific products / services (ex. Ballet Classes, Boy Scouts etc)
Do these mailing lists include the Names of the Children?
No. We do not include the Names of the Children. We provide you with the Name & Address of one of the Parent's in the home. Children's Names are not released for privacy purposes.
Can we make our mailing list more specific, by targeting a specific area, and using other demographics like Household Income?
Yes! You can target specific zip codes, cities, counties or a radius in miles around an address. You can also add 100's of other demographics to your list, such as:
Estimated Household Income
Gender
Marital Status
Home Value
Length of Residence
Net Worth
Interests & Hobbies
What types of Businesses can benefit from advertising to Families with Children?
Churches
Schools
Child Day Cares
Babysitting Services
Maid Cleaners
Sports Programs
Music Lessons
Math & Science Tutors
Orthodontists
Pediatricians
Event Planners
Bakeries
Summer Camps
How many Families with Children are in my area?
There are Families with Children in the USA. Find out how many Families with Children are in your area : Find Families with Children
What format does the mailing list come in?
We offer 3 easy-to-use List Formats:
Excel / CSV file

PDF Mailing Label Format (makes it quick and easy for you to print mailing address labels at home or in the office)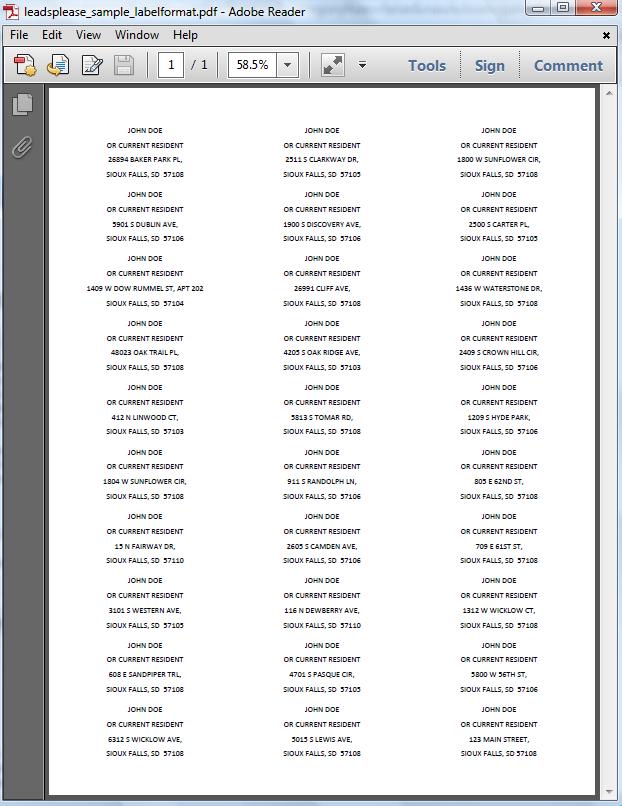 Peel & Stick Mailing Labels Shipped to You

Can I see a Sample Mailing List?
Yes! Click below to download a Sample Mailing List in CSV File Format and PDF Mailing Label Format:
LeadsPlease Sample Consumer Mailing List – CSV FileDownload
LeadsPlease Sample Consumer Mailing List – PDF FileDownload
Does the List include Email Addresses?
You can choose to add Email Addresses to your List.
We offer 3 List Options:
Direct Mail
Direct Mail + Email
Direct Mail + Email where available
For more information & pricing please visit this page : Buy Email Lists & Email Address Lists
How do I get a Mailing List?
You can purchase your mailing list on our website or with a List Specialist over the phone. On average, it takes about 5 minutes to build and purchase a Mailing List.
Other Helpful Resources
Mailing Lists Of Families With Children FAQs
[Q]I only want to mail to families living near me with children of specific ages. Is this possible?[A]Yes it is. You can search geographically by city, county, zip code, state or all states. Or you can draw a radius around a physical address to to have greater control of your target area. Yes there are bands of ages to choose from on the demography page.
[Q]Do I get the name of the children and the name of the parents?[A]No. You will get the name of one of the parents in the home. You will not get the name of the children for privacy reasons.
[Q]Are there any restrictions to downloading the mailing lists of families with children immediately?[A]Yes there are. This data is deemed sensitive and we need to have a copy on file of whatever it is you are planning to mail families with children. Just reply to the Order confirmation email we send you and attach for example a PDF or JPEG of the artwork to be used.