LeadsPlease Weight Loss Email Lists & Mailing Lists help connect you with Consumers anywhere in the USA. Weight Loss Leads are Consumers who are most likely to purchase Diet or Weight Loss related products & services.
Get more Customers and Boost sales with 100% Opt-In Weight Loss Leads.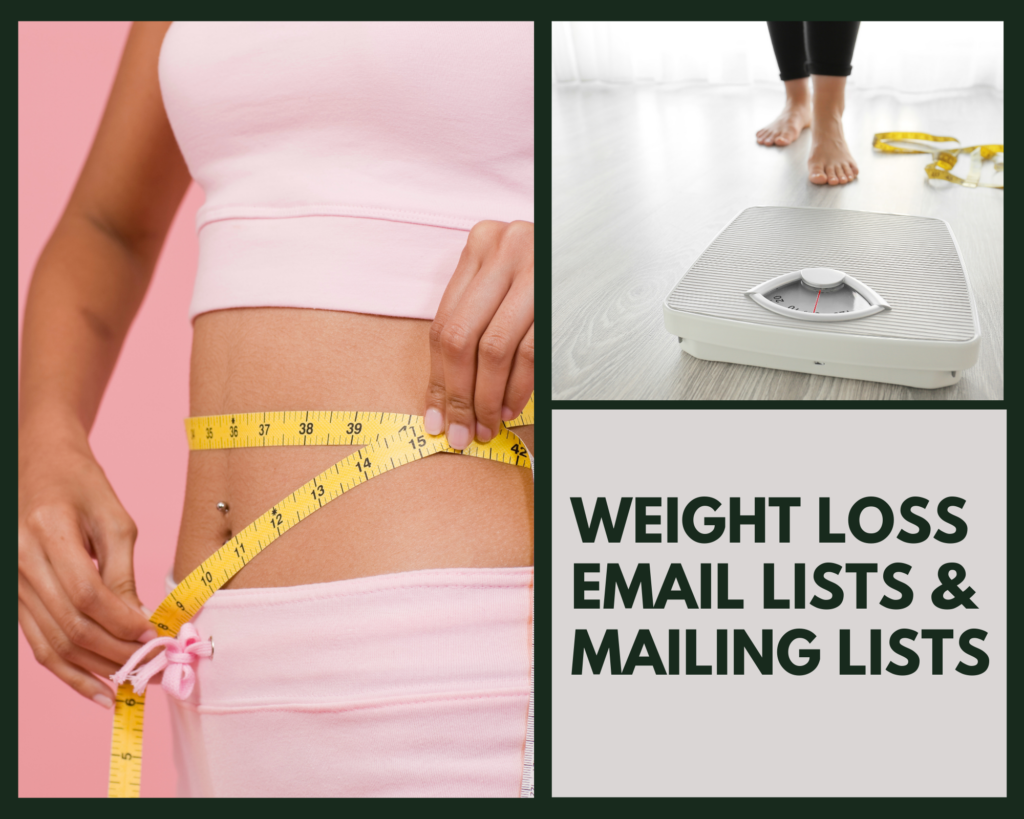 What is a Weight Loss Email List & Mailing List?
It is a marketing list that includes the Names, Postal Mailing Addresses and Email Addresses of Consumers who have expressed an interest in losing weight and weight loss one or more times in the past 12 months.
How do you know if someone is interested in Weight Loss? How do they get on these Lists?
Our Weight Loss Leads and Weight Loss Emails are compiled from 100's of different sources.
The majority of weight loss and diet leads, are compiled from online and in-store purchases, where the individual has purchased or signed up for something related to weight loss and/or dieting.
So, for example, if a Consumer purchases weight loss supplements online they may 'check' a box during the checkout to acknowledge and opt-in to receive future marketing related to weight loss. If they do accept and opt-in, their contact information will be added to our Weight Loss Lists.
These are the most common sources for Consumers Interested in Weight Loss:
Weight Loss Related Purchases Online
Weight Loss Related Purchases In-Store
Magazine subscriptions
Gym Memberships
Wellness & Weight Control Centers
Diet & Wellness Retreats
Surveys
Can I get Weight Loss leads for people struggling with Obesity?
Our weight loss leads includes all people interested in losing weight. This will include people struggling with obesity and high blood pressure, high BMI, type 2 diabetes, and anyone else who wishes to lower their body mass index and body weight.
Why should I buy Weight Loss Email Lists?
If your business is in the Weight Loss, Dieting or Fitness Industries and you want to get more customers and boost sales, then you should buy weight loss email lists and start email marketing .
The email list for weight loss product buyers immediately connects you with Consumers who are most likely to want to know about your services/products.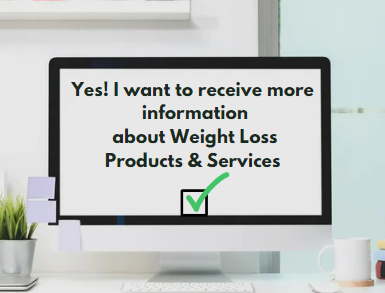 Can I add other demographics to my List?
Yes! You can add 100's of other criteria or demographics to your List.
These are the most popular demographics to add to a Weight Loss List:
Gender
Income
Presence of Children
Ethnicity
Marital Status
Exercise
Natural Foods
Camping / Hiking
Walking
Beauty / Cosmetics
Health & Beauty
+100's more…
If you'd like to add other demographics or outputs to your list, just give us a call and we'll be hapoy to help. We have 100's of additional criteria that we can add, so we likely have what you're looking for.
Can I add Phone numbers to my list?
Yes! If you're interested in doing telemarketing, we can add Phone numbers to your list. Please visit our Phone Number List page for more information and pricing.
Can you help me get people's social media contact information?
Yes! Please Contact Us for more information and pricing.
What format does the List come in?
We offer 3 Easy-to-Use List Formats:
CSV File Spreadsheet
PDF Mailing Label Format (for printing on Avery 5160 Labels)
Printed Peel & Stick Mailing Labels
If you buy your List online, there will be an instant download file. All you have to do is download your .csv file to your computer and start marketing to your target audience.
What types of Businesses could benefit from a Weight Loss Email List?
Diet Product Manufacturers (ex. Ozempic)
Weight Loss Retail Stores
Gyms
Local Fitness Coaches
Life Coaches
Gym Equipment
Dietary Support
Intermittent Fasting
Weight Loss Programs
Clinical Trials related to Weight Loss
Physical Activity Facilities/Programs
Healthy Eating Programs
Healthy Lifestyle Counselors
Health Benefits Specialists
National Institutes of Health
Weight Loss Drug Manufacturers
Body Fat Detection Devices
Cardiovascular Devices
Eating Habit Counselors
How many people are in your database?
There are over 11.5 Million+ People in our database, who are Weight Loss Enthusiasts. Over 2.5 Million of these Consumers have an email address.
How much do people spend on weight loss products each year?
According to a recent study by the Boston Medical Center, about 45+Million Americans go on a diet each year.
Americans spent $33 Billion each year on weight loss products

Boston Medical Center – Nutrition & Weight Management
How do I know that the email addresses are Valid and accurate?
We take great pride and care in maintaining the quality of our data, as it is the core of our business.
Our Consumer Email Lists are routinely updated throughout the year, as new information becomes available. During these updates, old email addresses get updated or removed and new, valid email addresses get added.
We also perform one final list cleansing at the time you purchase your email list. This final email address verification process validates all the email addresses on your email data list. So, after this validation process, your list is as accurate as possible, resulting in higher conversion rates and less unsubscribes.
Although we go to great lengths to frequently clean and update our databases, they will always contain a small number of undeliverable mailing addresses & emails, aliases, out of date information and data errors that are beyond our control.
On average, you can expect to receive the following deliverability rates:
Consumer Mailing Address & Demographics – 95+%
Consumer Email Address – 90+%
Can you help with Direct Mail?
Yes! We also offer full-service Direct Mail marketing. So, if you don't have time to manage the implementation of a direct mail campaign, let us do it all for you!
How much does a Weight Loss List cost?
The minimum order for a Direct Mailing List is $99.50 for up to 1,000 Names + Postal Mailing Addresses. The minimum order for an Email List is $195.00 for up to 1,000 Names + Postal Mailing Addresses + Emails.
How do I buy a Weight Loss List?
You can buy a Weight Loss Email List for email marketing campaigns, or a direct mailing list for a targeted direct mailer.
You can purchase your List online by clicking the button below, or give us a call and we'll be happy to help you over the phone. We accept all major credit cards.
Other Helpful Resources
Consumer Mailing Lists FAQs
[Q]If I buy a List, and want to get more Weight Loss Leads in the same area at a later date, will I get duplicates?[A]No. We keep track of all your orders and will make sure you always get fresh, new leads, and none of the leads that you've already purchased. Just give us a call and we'll be happy to help you with this over the phone.
[Q]Can I see a Sample of the List before I buy it?[A]Yes. Please Contact Us to get a Sample List.