Hobbies & Interests Email & Mailing Lists connect businesses with Consumers who are most likely to purchase your Business's products and services.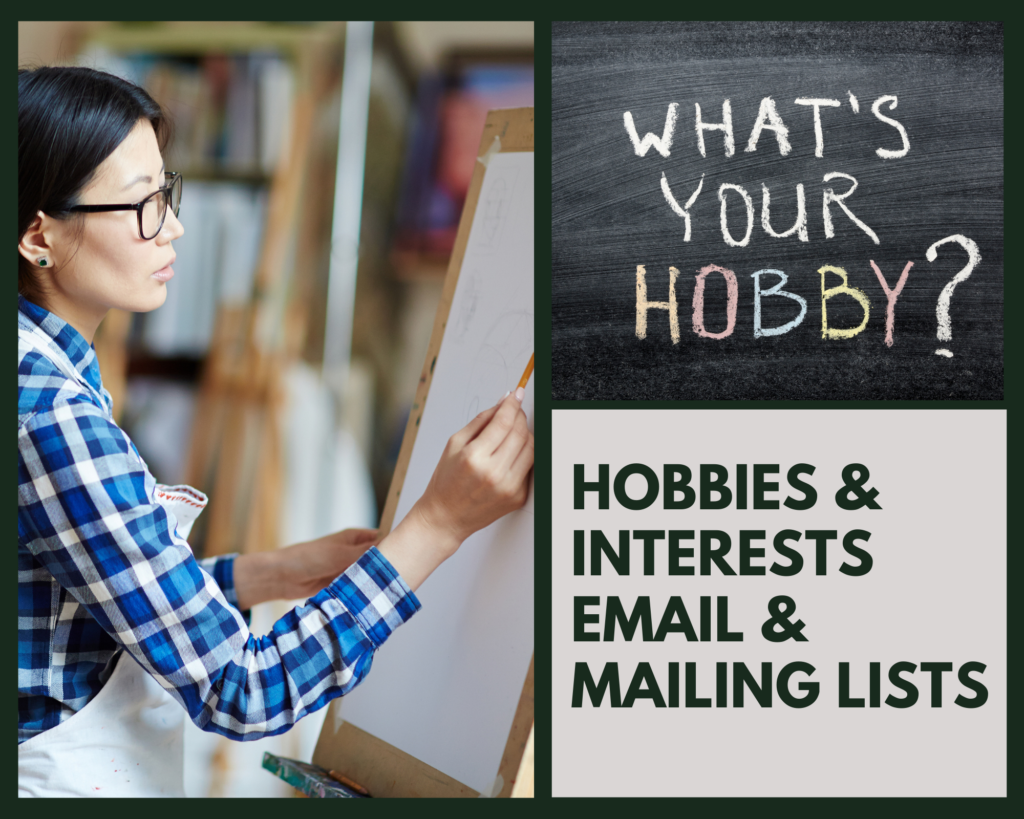 What are Hobbies & Interests Email & Mailing Lists?
A Hobbies & Interests Mailing List is a marketing list that includes the Names and Addresses of Consumers, based on their specific Interests and Hobbies.
The Mailing List can be created online and downloaded to your computer in minutes. We offer 3 Easy-to-Use List Formats, so you can rest assured that you'll be able to access your list quickly and start marketing to new potential customers.
What Hobbies & Interests do you offer?
Arts
Arts & Antiques
Automotive Enthusiast
Auto Work
Aviation
Beauty / Cosmetics
Boating / Sailing
Book Buyers
Book Readers
Books & Magazines
Books & Music
Broader Living
Camping / Hiking
Career
Career Improvement
Cats
Common Living
Community / Charities
Computers
Computing / Home Office
Consumer Electronics
Cooking
Cooking / Wine
Crafts / Sewing
Cultural / Artistic Living
Current Affairs / Politics
Diet & Weight Loss
Dogs
Do It Yourself
Electronics / Computing
Ethnic Products
Environmental Issues
Equestrian Enthusiast
Exercise
Fishing
Food / Naturals
Food & Wine
Games
Gaming
Gardening
Golf
Health & Beauty
High End Appliances
History / Military
Home & Garden
Home Decorating Enthusiast
Horses
Hunting
Hunting / Shooting
Investments & Finance
Moneymaking Opportunities
Motorcycle Enthusiast
Outdoor Recreation
Photography
Politics / Religion / News
Sports – General
Running / Jogging
Self-Improvement
Skiing
Tennis
Technology / Entertainment
Travel
Walking
How do you know if someone has a particular Interest? Where does your information come from?
LeadsPlease Interests and Hobbies are compiled from 100's of different sources, including the following:
Self-reported information
Online Purchases
In-Store Transactions
Memberships
Subscriptions
Questionnaires
Can I see a Sample Mailing List?
Yes! Click below to download a Sample Mailing List in CSV File Format and PDF Mailing Label Format:
LeadsPlease Sample Consumer Mailing List – CSV FileDownload
LeadsPlease Sample Consumer Mailing List – PDF FileDownload
Does the List include Email Addresses?
You can choose to add Email Addresses to your List.
We offer 3 List Options:
Direct Mail
Direct Mail + Email
Direct Mail + Email where available
For more information & pricing please visit this page : Buy Email Lists & Email Address Lists
How much does a Mailing List cost?
Mailing Lists start at $99.50 for up to 1,000 leads. The more leads you buy, the cheaper the cost per lead. Please visit our Mailing List Pricing page for more information.
How do I get a Mailing List?
You can purchase your mailing list on our website or with a List Specialist over the phone. On average, it takes about 5 minutes to build and purchase a Mailing List.
Other Helpful Resources
Hobbies & Interests Mailing List FAQs
[Q]Can I add more demographics to the list?[A]Yes on the demography page of the website you can select the hobbies & interests you are looking for and add things like household income, occupation group, single family home.
[Q]How up to date are your mailing lists?[A]We get a completely fresh database every 30 days.
[Q]Can I target only Food & Wine enthusiasts in my area?[A]Yes, we have 2 ways to target geographically. First by specific city, county, zip code, state or all states. Second by drawing a radius around a complete physical address. Once you have chosen your geographic target area you continue to the demography page where you can select the Hobbies and Interests you are looking for.