Car Dealership Email Lists & Mailing Lists connect you with Car & Truck Dealers across the USA.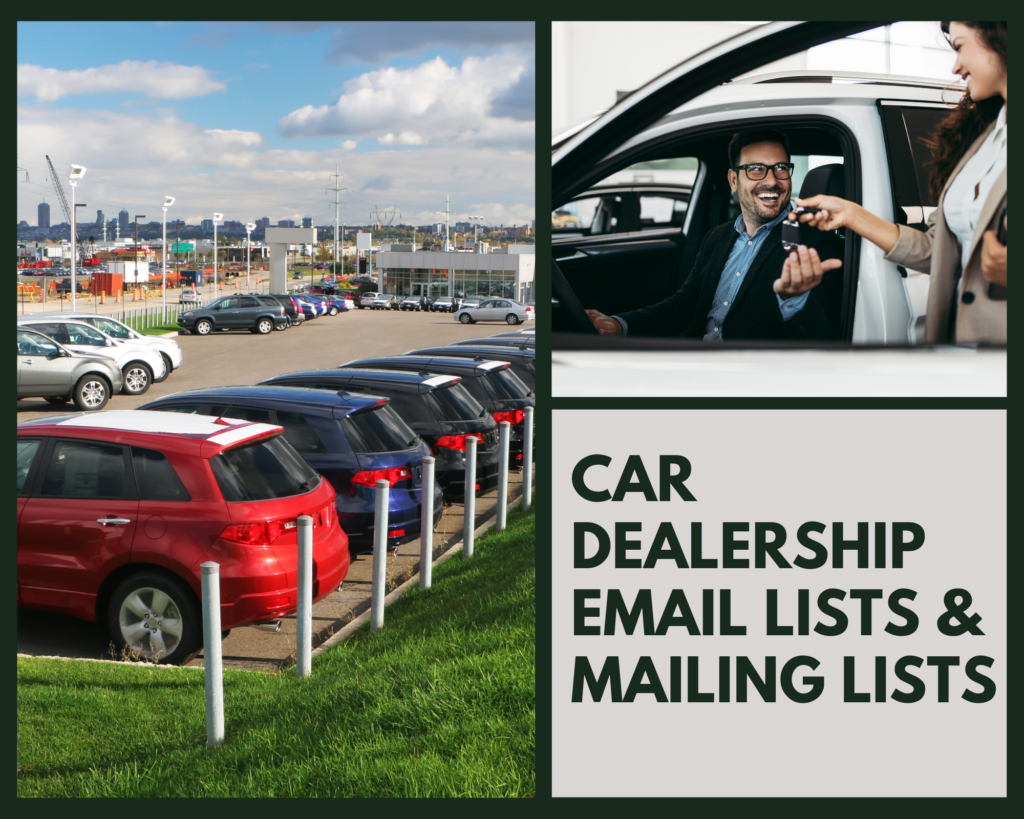 What is a Car Dealership Mailing List?
A Car Dealership Mailing List is a marketing list that includes the Contact information for Car Dealerships across the country.
Get a list of 'all Car Dealerships' or narrow your list down to 'new' or 'used' dealers. You can search by States, Counties, Cities and Zip Codes and using 100's of demographics, like Employee Size, and Annual Sales Volume.
Why should I buy a Car Dealership Mailing List?
The total sales for vehicles in the US were up by 8% in 2018, indicating a 14.3% increase from the previous year. Our Car dealership mailing lists can give you the edge you need in an increasingly competitive industry.
If you are currently providing your products or services to car dealerships or are planning on getting into business with car dealerships, our marketing lists can help you find new customers quickly and boost sales.
Are you a Car Dealership looking to advertise to Vehicle Owners near you?
If you're a Car Dealer and you need a mailing list of specific types of vehicle owners who live near the dealership, so you can mail them promotions and advertisements, then we can help!
Click here for more information on our Car Owner Mailing Lists.
What is included in your Lists?
We can help you find 'all Car Dealerships', or narrow down to specific types of Car Dealerships using geography and demographics:
Car Dealership's Name
Telephone Number
Mailing Address
Contact Name
Contact Title (ex. Owner, President, Manager etc)
Email Address (where available)
URL
Employee Size
Annual Sales Volume
Chain / Not Chain
Franchise / Not Franchise
What types of Businesses can benefit from using a Car Dealership Mailing List?
We can help the following businesses get ahead of the curve with our car dealerships mailing lists:
Insurance Providers
Promotional Products
Compliance Consultants
Auto Repair Services
Car Parts Manufacturers
Car Parts Distributors
Sales Software Providers
Web Design Services
Marketing Services
Car Financing Services
Employment Agencies
Why should I buy a list of Car Dealerships from LeadsPlease?
We help you save time. Don't waste hours searching for new leads on the internet or in white page directories; we've done the work for you! You can build and buy a list online in minutes.
We provide high-quality, up-to-date contact information so you can connect your business with top decision makers at Car Dealers anywhere in the country.
Our lists are 90+% accurate
We have low minimums and extremely competitive pricing
How much does a Mailing List cost?
These types of Mailing Lists start at $99.75 for up to 500 leads. The more leads you buy, the cheaper the cost per lead. Please visit our Mailing List Pricing page for more information.
Do the Car Dealership Email Lists include an email address for every dealership on the list?
Yes! The Car Dealership Email Lists include one email address per location.
If you need more than one email address per dealership, you can add 'Multiple Contacts per Location' and get as many email addresses as possible, for each business location.
For more information & pricing please visit our Business Email Lists page.
How do I get a Mailing List?
You can purchase your mailing list on our website or with a List Specialist over the phone. On average, it takes about 5 minutes to build and purchase a Mailing List.
Other Helpful Resources
Car Dealership Mailing List FAQs
[Q]Can I get Used Car Dealerships for specific car brands?[A]Yes you can. Call us on 1 866 306 8674 and we will help you build your specialty list.
[Q]Can I specify a specific car brand and request that I get multiple contacts for each dealership?[A]Yes you can.
[Q]Can I only target dealerships that are not part of a chain?[A]Yes you can. Call us on 1 866 306 8674 so we can help you build your list.