LeadsPlease Consumer Mailing Lists help connect you with the right Consumers the first time around, so you can start gaining new customers quickly.
Only trust the Best! Get your Consumer Mailing List from LeadsPlease, voted "Best List Broker" by Business.com
What is a Consumer Mailing List?
Consumer Mailing Lists are direct mail marketing lists that include First and Last Names, and Full Addresses.
This contact information allows small businesses and local businesses to send prospecting mail pieces to current residents in their area.
Businesses use Consumer Mailing Lists with targeted direct mail and direct marketing campaigns. If a business wants to increase their customer base, and advertise to people in their area, one of the most effective ways to do this is with mailing direct mailers sent through the postal service.
You can get a Consumer List that targets a particular area of the country, or you can target a specific group of people based on Demographics like Age, Income, Homeownership etc.
How many Consumers are in your database?
$topConsumersPerState
What do LeadsPlease Customers think about our Consumer Direct Mailing Lists?
Sam Najah, the Owner of Westside Video Services, purchased a LeadsPlease Consumer Direct Mailing List to promote his buiness.
Sam's goal was to send a direct mailer to affluent households in specfic neighborhoods near his business, who might be interested in using his video services, and who could likely afford them. He needed an accurate list of names + addresses targeting high Income households in the area.
So, he did a quick search online, and found us. He used our easy-to-use lead generation tool to quickly and affordably get a list of the names + addresses of high Income people in his area, so he could send them a targeted advertisement, and grow his business.
How do I get mailing addresses for a neighborhood?
If you're wondering how to get residential addresses for specific neighborhoods, you've come to the right place; we can help you!
How to get mailing address for a neighborhood:
Geography : Select the neighborhood using one or mor zip codes, or enter an address in the neighborhood and search the surrounding area
Demography : Add demographics like Age, Income, Families with Children etc, or select 'All' to reach every household
Select how many Names + Mailing Addresses you want and Checkout
Download your Neighborhood Mailing List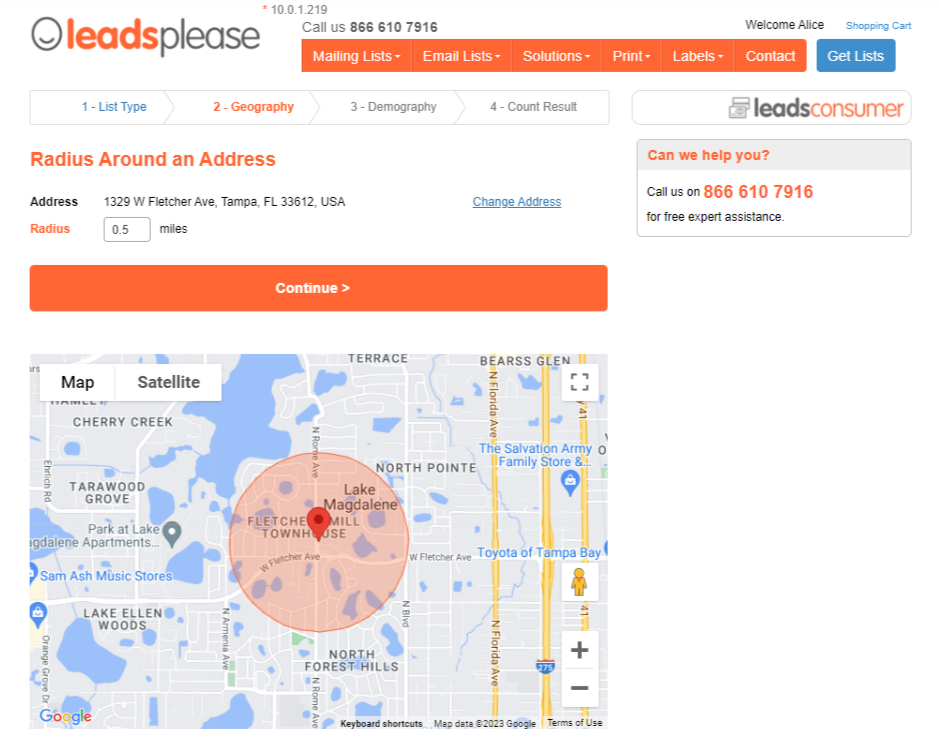 What types of Consumer Lists do you offer?
We offer 100's of different Consumer Lists. So, if you're looking to buy consumer data lists, you've come to the right place! Our most popular lists are shown below.
We also offer many lists offline. So, if you don't see what you're looking for below, please Contact Us and let us know what you need. We will research your request and get back to you!
What's included in a Consumer Mailing List?
First Name
Last Name
Street Address
City
County
Zip
State
Demographics (if selected)
What is EDDM (Every Door Direct Mail)?
Every Door Direct Mail (EDDM) is a direct mail service, offered by the United States Post Office (USPS) allows you to send mail to every home, and every address in a particular area.
Every Door Direct Mail is used by businesses that want to send mail to every address in a particular carrier route or zip code.
Some people refer to this type of mailing as a 'Saturation' mailing.
What's the difference between a Consumer Mailing List and an EDDM List?
There are a few differences between these 2 types of direct mail lists.
EDDM Lists include the contact information and addresses for all households in entire zip codes, or whole cities/counties. Where as Consumer Mailing Lists can include a variety of areas.
Consumer Mailing Lists include the Full Names of the current residents, but EDDM Lists normally do not. EDDM lists do not include the Full Name of the residents, but instead, include the words 'Current Resident' for every household.
EDDM Lists do not include demographics, however, Consumer Mailing Lists do. So, for example, if your small business offers services to specific groups of people, a Consumer Mailing List might be the best list option.
If you need help deciding which list is best for your direct mail campaign, please give us a call and we'll be happy to help you!
Can I get a list for specific carrier routes?
Yes! We can help you get a list for specific carrier routes.
Please email us with the list of USPS carrier routes that you'd like to target, and we'll let you know how many households are in those carrier routes.
What response rate can I expect from a Direct Mail Marketing Campaign?
Response rates vary greatly and depend on a lot of factors.
According to a recent article by EINPresswire, the average direct mail response rates are between 2.7-4.4% .
That means that for every 100 direct mail pieces that you mail through the postal service, you can expect a response rate from ~2-4 recipients. Now that's a great return on investment ! And don't forget, this number doesn't even take into account how many repeat customers you might gain. Gaining even one new customer who turns into a loyal repeat customer, is a big win.
According to the Postary (Postcard Marketing & Direct Mail Platform), the average response rate of the direct mail is around 2.7% – 4.4%

EINPresswire
For more information about direct mail marketing, please visit our Direct Mail Marketing page.
Can I add Emails to my list?
Yes! For more information and pricing please click here Buy Email Lists & Email Address Lists.
How do I get my list?
After you place your order online, you'll be able to download your customer mailing list in a .csv file format, directly from the website.
What Format does the list come in?
We offer 3 Easy-to-Use List Formats:
CSV File Spreadsheet
PDF Mailing Label Format (for printing on Avery 5160 Labels)
Printed Peel & Stick Mailing Labels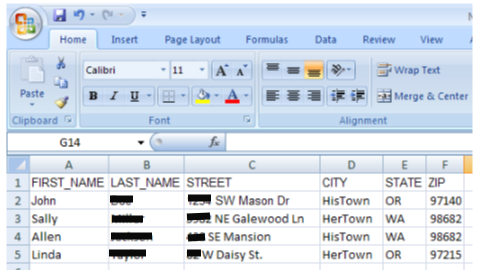 Can I Preview my Mailing List before I buy it?
Yes! You can preview your List before you buy it.
When you get to the Count Result page, click on 'See Your Leads'. You will be able to see the first 100 rows of your mailing list.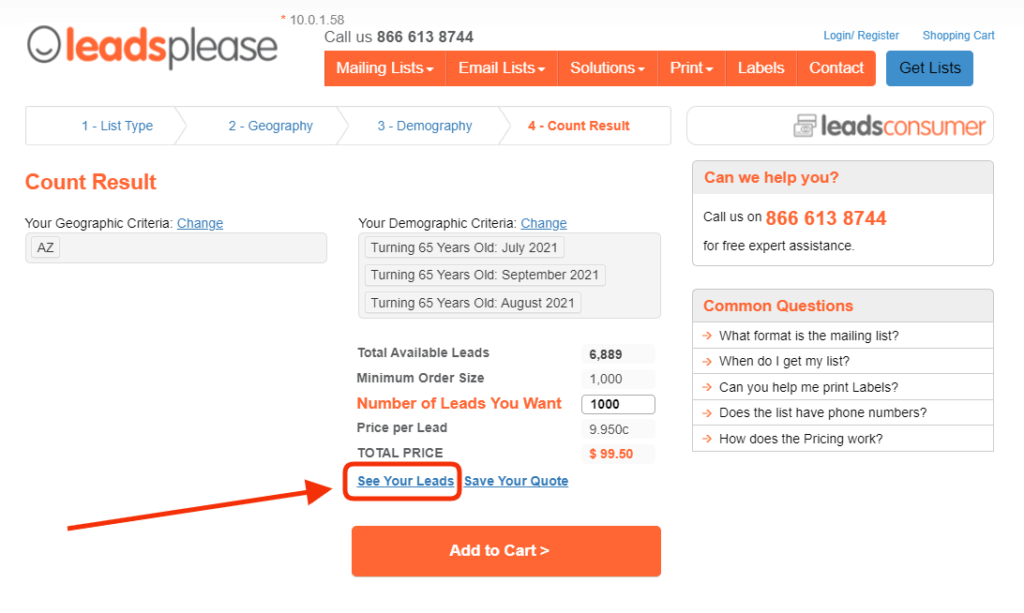 Can I get my List in a PDF format for printing Labels?
Yes! You can get your List in a CSV File Format and a PDF Mailing Label Format, for the same low price.
The PDF Mailing Label Format makes printing your Labels quick and easy. Click below to see & download a Sample PDF Mailing Label Format file:
LeadsPlease Sample Consumer Mailing List – PDF File Download
Why Should I Buy a LeadsPlease List?
LeadsPlease Consumer Mailing Lists
You Win
Voted "The Best List Broker Services"
Only trust the Best! Get your List from Business.com's voted "Best List Broker"
95+% Accuracy Guarantee

Don't waste time & money on bad leads.

210+ Million Prospects in the USA

Find the

right

prospects using the largest database

3 easy-to-use list formats

Don't worry; we guarantee that you'll be able to use your list or we'll give you your money back!

Instant Download

Save time; get your list in minutes

Happy Customers

1000's of Happy Customers use LeadsPlease to grow their businesses. Start growing your business too!
How much does it cost to get a Consumer Mailing List?
Consumer Mailing Lists start at $99.50 for 1,000 Leads. The cost per lead goes down, as you buy more leads.
| # RECORDS | PER RECORD | TOTAL |
| --- | --- | --- |
| 1000 | 9.95c | $ 99.50 |
| 2500 | 9c | $ 225.00 |
| 5000 | 6.5c | $ 325.00 |
| 10000 | 4c | $ 400.00 |
| 25000 | 3c | $ 750.00 |
Direct Mail
Need help with Printing & Mailing? Save time and let us design, print and mail your customized direct mailer:
See All My Direct Mail Options
Consumer Mailing Lists FAQs
[Q]If I buy lists every month or so, using the same data will I get duplicates?[A]No. Call us 866 306 8674 and we will help you place your subsequent orders and make sure there are no duplicates.
[Q]Can I see the list before I buy it?[A]Yes. On the count result page you will see a "see your leads" option. A new window will open up to show you the first hundred rows of your list.
[Q]Are phone numbers included in the list?[A]No. You will need a SAN (subscription account number) from the Federal Trade Commission to exempt you from the Federal Do Not Call regulations.
[Q]How do I access the list?[A]On the last checkout page you will see a link to download the list immediately. It will open in Excel.
[Q]Do you have Leads for Sale?[A]Yes! Please visit our Leads for Sale page for more information.
[Q]Is there a Not For Profit Discount for researchers?[A]Yes. Please call us 866 306 8674 and we will help you with a coupon code.
[Q]Can you help me find a phone number or list of phone numbers?[A]Yes. Please visit How to Find a Phone Number page for more information or call us 866 306 8674.
[Q]Do you sell Postcards?[A]Yes. Please visit our Postcards and Where to Buy Postcards pages for more information or call us 866 306 8674.