Get off marketing mailing lists and stop getting junk mail.
Most mail is useful; and we like it! But sometimes, mailboxes get full of unwanted and unsolicited mail.
If you want to limit the amount of unwanted direct mail you receive, we can help. Get off marketing mailing lists today with these 6 quick steps.
1. Opt-Out of Marketing Offers from the Direct Marketing Association
If you want to limit or stop receiving promotional mail and marketing offers, you need to contact the Direct Marketing Association.
The Direct Marketing Association (DMA) is "a trade association of businesses who advertise their products and services directly to consumers by mail, telephone, magazine, Internet, radio or television."
You can "opt-out" of receiving mail from specific businesses or you can opt-out of receving mail from entire categories, like Catalogs.
You can opt-out online or submit your information by mail. They charge a processing fee of $2.00.
To opt-out and stop receiving various marketing offers visit the DMA Choice website : https://www.dmachoice.org/index.php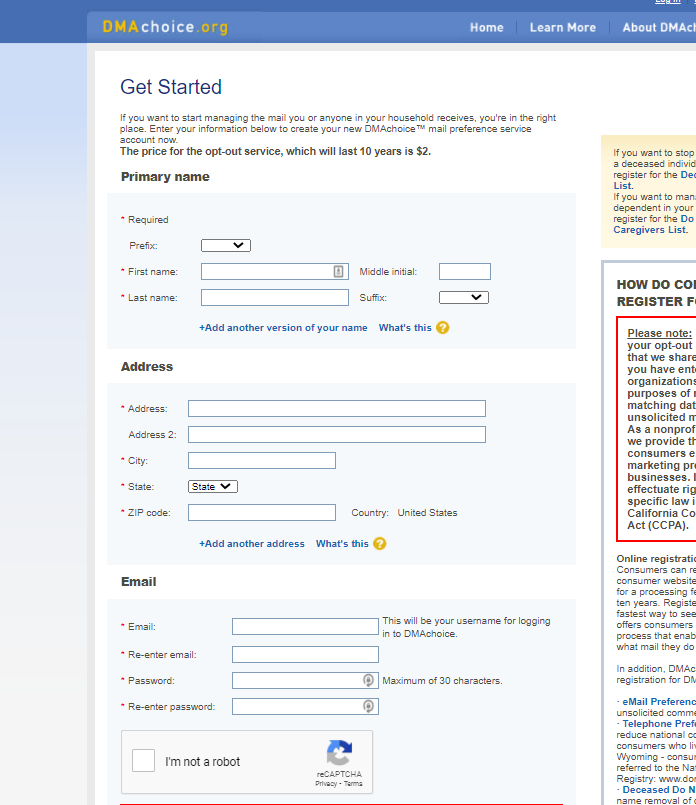 2. Stop Credit Card and Insurance Offers
Is your mailbox full or unwanted, new credit card and insurance offers?
To limit or stop getting these unsolicited offers, you need to contact all the major credit bureaus.
Contact the 4 Major Credit Bureaus
One way to do this, is to contact each of the 4 major credit bureaus individually:
Experian
TransUnion
Equifax
Innovis
Opt Out Prescreen
Another way to quickly opt-out of these 4 credit bureaus, is to submit your information through the service Opt Out Prescreen. This is a free service, operated by the credit bureaus.
You can choose to stop receiving these types of offers for 5 years, or permanently.
You can opt-out by calling them, or by submitting your information online:
Call toll-free 1-888-5-OPT-OUT (1-888-567-8688) or
3. Sign-up with PaperKarma
PaperKarma is an App that you can get on your computer or on your phone, that helps limit the amount of junk mail you receive.
They claim that they can help you limit mail from the following:
Associations
Catalogs
Charities
Coupon offers
Credit offers
Direct marketers
Insurance offers
Local mailers
Magazines
National mailers
They do charge a fee of $3.99/month or $24.99/year. For more information and to sign up, visit https://www.paperkarma.com/
4. Stop Getting Catalogs
If you're receiving unwanted, bulky catalogs in the mail, and you want to stop getting them, you should check out Catalog Choice : https://www.catalogchoice.org/
This website allows you to search for a company by name, and then unsubscribe / remove yourself from their mailing list.
5. Contact Businesses Directly
Although you can opt-out of most marketing offers by following the steps above, there isn't a quick way to get off businesses' individual customer lists.
So, if you follow all of the steps above, and you're still receiving mail from certain businesses, you might be on an independent mailing list.
In conclusion, to get off independent company lists, you will need to contact the company directly and request to be taken off their mailing list.
6. Get Off Marketing Mailing List Databases
Marketing mailing list companies sell consumer mailing list information for marketing purposes.
These companies sell consumers' names & postal mailing addresses to businesses that want to advertise their products/services.
Some companies compile consumer information themselves, but in most cases, these companies are re-selling databases that originated from credit bureaus or other sources.
Therefore, if you want to be extra cautious, you can contact marketing mailing list companies directly and ask each company how to get your name & address removed.
To remove your name/address from LeadsPlease, please follow the steps above. If you have any questions, please feel free to contact us:
1 866 306 8674
info@leadsplease.com
Other Helpful Resources