Grow your Business with Direct Mail Marketing
Reach new customers and grow your business with targeted, direct mail advertising. Attract customers and look like a marketing pro, with a professional, eye-popping direct mail campaign.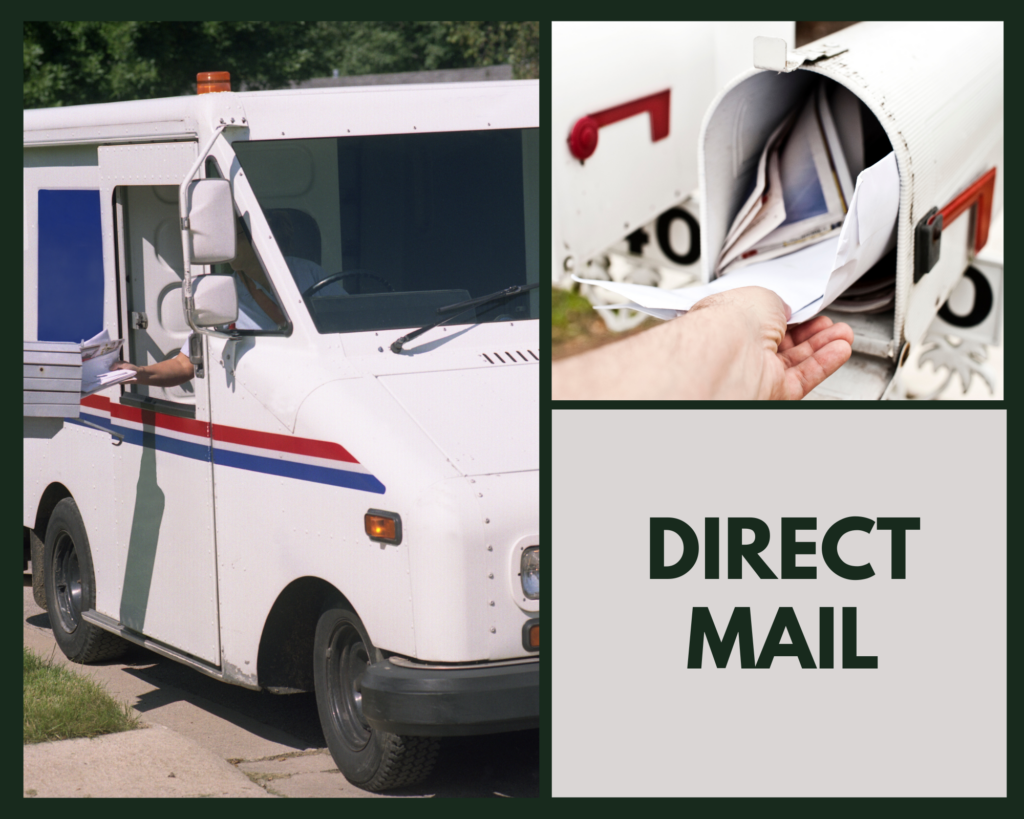 What is direct mail?
Direct Mail is a physical form of direct marketing. It is delivered to potential customers' mailboxes by the United States Postal Service (USPS) or other delivery services.
Direct Mail is most commonly used to advertise various products or services.
It has been used by companies for over 50+ years, and is a form of advertising that connects businesses with new or current customers.
What is the most popular type of direct mail?
Postcards are the most popular direct mail piece for direct mail marketing campaigns.
Postcard mailers are particularly popular with small businesses because they have cost-effective pricing, and they have the best return on investment.
Postcards are a powerful piece of mail that small businesses can use to advertise an event, promote a new product or service, and offer a coupon or discount.
What are some other popular types of direct mail?
Direct Mail comes in lots of different formats, but the most popular types of direct mail are:
6 x 4 Postcards
8.5 x 5.5 Postcards
Tri-Fold Brochures
Letters/Envelopes
Flyers
Business Cards
Catalogs
What is every door direct mail or EDDM?
Every Door Direct Mail (EDDM) is a direct mail service, offered by the United States Post Office (USPS) allows you to send mail to every home, and every address in a particular area.
Businesses use Every Door Direct Mail to send mail to every address in a particular carrier route or zip code.
Some people refer to this type of mailing as a 'Saturation' mailing.
What response rates can I expect from sending a direct mail campaign?
Response rates vary greatly and depend on a lot of different factors. However, the ANA (Association of National Advertisers) states that direct mail's average response rates are around 5% when using a purchased prospecting list, and up to 9% when using current customer lists.
Does direct mail work?
Yes! Direct mail does work. Direct mail has been around for a long time and it's still going strong.
According to the Association of National Advertisers, household mail continues to be the preferred format of advertising by Consumers. According to their studies, other forms of digital marketing like email marketing, paid search and social media, had a response rate of around 1%. Direct mail responses rates, however, we're much higher, at ~9%.
Direct mail continues to be an integral part of most small businesses' marketing efforts and their marketing strategy because it works.
Do you sell Postcards?
Yes! Please visit our Postcards and Where to Buy Postcards pages for more information.
Who should I send my direct mail to?
You can send your advertisements to your current customers or advertise to a new target market using a new target audience.
To reach a new target market, purchase a new mailing list with the names/addresses of people/businesses who may be interested in your products/services.
What industries use direct mail the most?
We work with businesses in all industries. But, from our experience, these are the industries that use it the most:
Beauty & Fitness
Events & Invitations
Food & Drink
Healthcare
Holiday & Seasonal
Home & Maintenance
Real Estate
Design Your Own
Can LeadsPlease help me with a direct mail campaign?
Yes! We offer targeted Consumer & Business Mailing Lists, as well printing services.
Save time and let us print and ship your customized mailers for you!
Direct Mail FAQs
[Q]If I buy a mailing list from you, can I add demographics to it?[A]Yes. You can get a mailing list for everyone in a particular area, or you can narrow down using demographics like Age, Income etc.
[Q]If LeadsPlease mails my direct mail campaign, can I be added to the mailing list, so I receive a copy of the direct mailer?[A]Yes.
[Q]What are the current postage rates?[A]Current postage rates can be viewed on the United States Postal Service website.
[Q]Can I include a QR code on my direct mailer?[A]Yes. You add a qr code to most direct mail pieces.
[Q]Can I add phone numbers to my list?[A]Yes. For more information please visit our Phone Number List page.