Beat your competition this Holiday Season. We've gathered up our 9 Best Holiday Marketing Tips to help you boost sales, smash your competition, and grow your business:
Holiday Postcards Shoppers Want
Accurate Direct Mailing Lists
Effective Email Marketing
Targeted Email Lists
Facebook & Instagram Holiday Sweepstakes
Huge Discounts
Buy Now, Pay Later App
Guaranteed On-Time Shipping
Free Bonus Gift
1. Holiday Postcards Shoppers Want
When you design your Holiday Postcards this year, and you're wondering where to start, just remind yourself what you want when you get holiday mail. Then, do the same for your customers !
Include these design tips to create Holiday Postcards shoppers want:
Bold, eye-popping images they want to put on the fridge
Fun Facts that Teach Shoppers
Invitation to an Event / Sweepstakes
Big Discount
Free Gift
Direct mailing lists can make or break your Holiday direct mail campaign.
Since direct mailing lists are essentially a list of potential new customers, it's critical that you get a 'good one'. A good, accurate direct mailing list, will help you reach the right people, and help you win over new customers and boost sales this holiday season.
A bad, inaccurate mailing list however, with outdated names & addresses, can lead your mail to the wrong homes, wrong people, and in the trash.
Beat your competition this holiday season; get an accurate mailing list that will connect you with new prospects and turn them into paying repeat customers.
3. Effective Email Marketing
Email Marketing, similarly to Direct Mail, is a popular & successful way to connect with new customers quickly and grow your business.
You can use Email Marketing to keep in touch with your current customers, or use it to advertise to new prospects. Email Marketing should be one of your best holiday marketing tips not to forget.
It's quick and easy to design an Email Marketing campaign online, and the cost is far more affordable than with Direct Mail.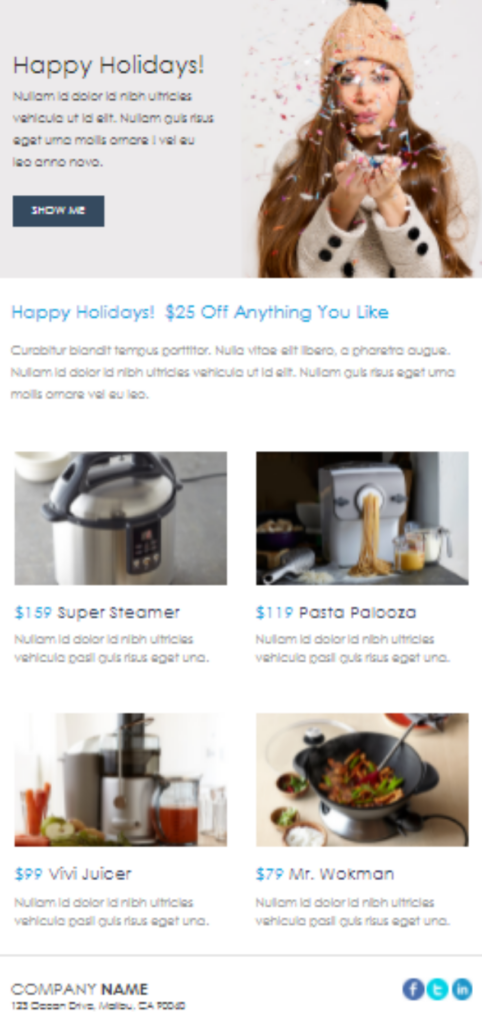 4. Targeted Email Lists
Similarly to the importance of accurate direct mailing lists, it's also critical to use accurate, targeted Email Lists.
The nice thing about Email Lists, is how quick and easy they are to get and to use. Email Lists are relatively cheap, easy-to-use, and can give you a quick return on your investment.
Therefore, if you need to get the word out about an event, help drive traffic to your website or connect with new customers quickly, you should try using targeted Email Lists.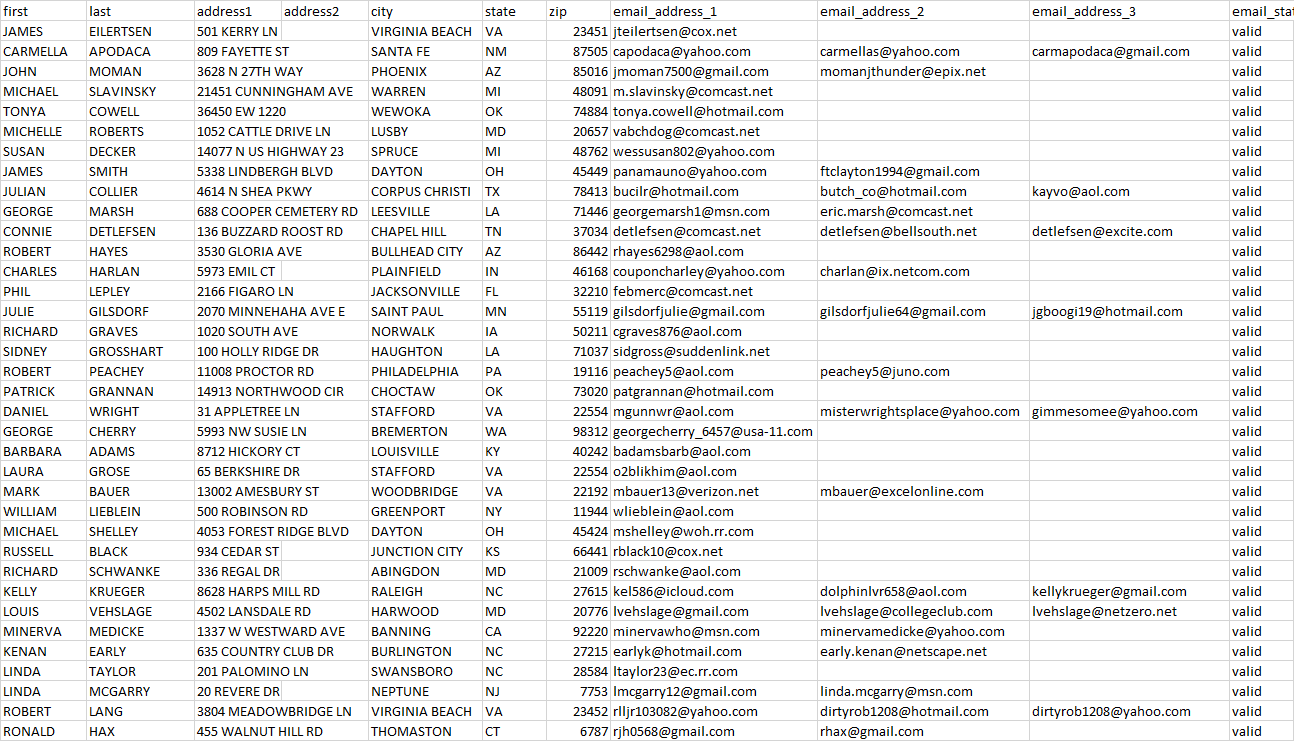 5. FaceBook & Instagram Holiday Sweepstakes
If you want to create a buzz this Holiday season, a quick and affordable idea is to host a Holiday Sweepstakes using your social media.
People love to play games ! Promote your Holiday sweepstakes on your Holiday Postcards and Emails, and promote them across all your social media channels in order to get the best responses.
Here are a few ideas for a quick and easy Holiday Sweepstakes:
Photo Contest (using your Product/Service)
Best Fall Holiday Selfie Contest
Best Jingle / Song (about your Product/Service)
Buy 1 – Give 1
12 Days of Xmas Giveaway
6. Huge Discounts !
Everyone loves a discount. But, not every discount is created equal. Up the ante this Holiday season, with a huge discount shoppers can't refuse.
Research your competition and see what discounts they offered last year and this year, and try your best to offer something bigger and better!
Savvy shoppers are also doing their due diligence and price shopping, so if you have the best deal, you'll likely win their business.
7. Buy Now, Pay Later App
Holiday Shoppers are looking for good deals, and more options on how and when to pay.
If you offer a product or service that is expensive, maybe you'll win over more customers if you give them the option to pay over time.
There are lots of 'buy now, pay later apps' available now, that you can quickly integrate into your website, giving your customers, one more reason to stay and pay.
8. Guaranteed On-Time Shipping
According to a recent study by Deloitte, Americans will spend 7-9% more this Holiday season, than in 2020. The study predicts that Holiday Sales will be ~ $1.2 Trillion in 2021!
However, this year is quite like any other. The pandemic is causing more people to shop online and look for gifts that can be shipped.
But the current shipping delays are worrying holiday shoppers, and causing them to back away from businesses that can't promise that their gifts will be delivered on time.
Win over wary Holiday Shoppers, by guaranteeing on-time shipping and 'before Xmas' deliveries.
9. Free Gift
One of the best holiday marketing tips you can adopt this season, is offering a free gift. Everyone loves a free gift!
No matter how small the gift is, if it's practical, funny, or sweet, a free gift can be a deal breaker.
The gift doesn't have to be related to your product or service, but it does have to be something that people want, need or could re-gift.
Here are some gift ideas that are bound to entice:
Stocking stuffer
Ornament
Gift Card
Free Subscription
Stickers
Truffles/Sweets
Other Helpful Resources