Business Owners Email Lists & Mailing Lists connect you with the top decision makers at businesses across the USA.
Wether you're marketing to small business owners or owners of Fortune 1000 companies, our accurate B2B contacts lists help you drive successful marketing campaigns and boost sales.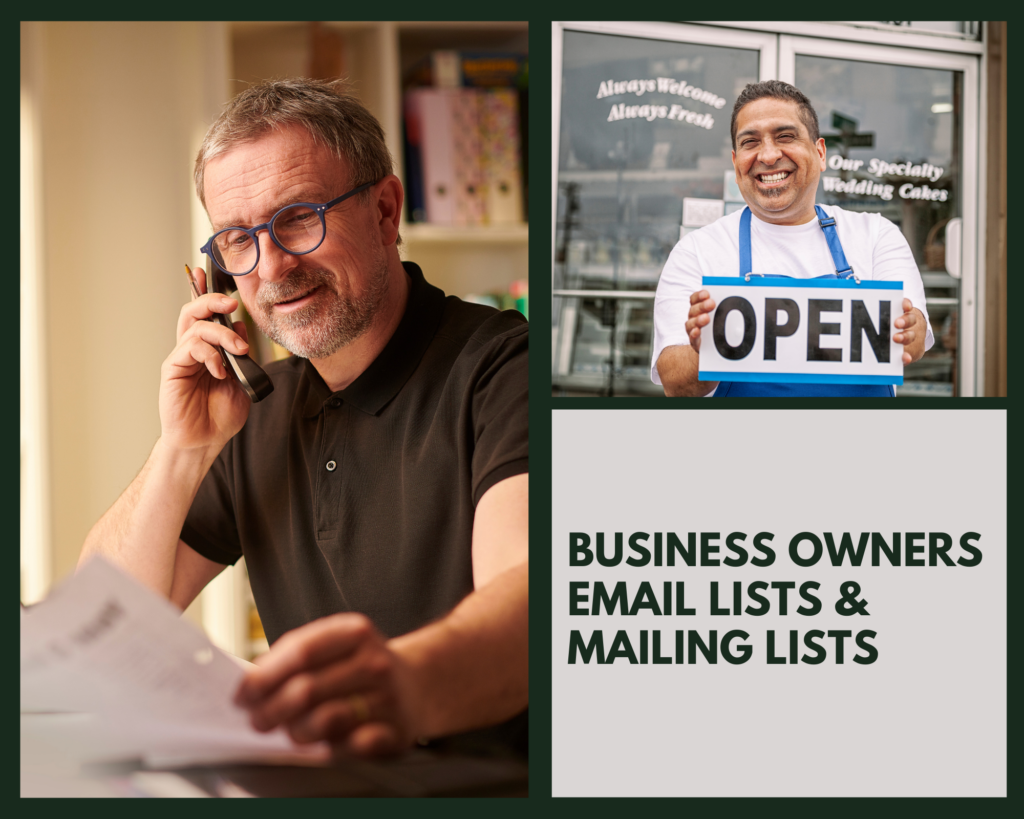 What is a Business Owners Mailing List?
A Business Owners Mailing List is a marketing list that includes the Contact information (Name + Address etc) of Business Owners in the USA.
These contact lists are the equivalent to modern day directories. The small business mailing lists contain critical contact information (ex. Name, Business Name, Address, Email, Social Media etc) and are an important marketing tool for helping you connect with Business Owners who may need your services and products.
What are Business Owners Email Lists?
The email lists of business owners are extremely similar to the Mailing Lists. The only difference is that the email lists (or digital marketing lists) also include an email address for each owner on your list.
Are your email lists "opt-in"?
Yes! All our email database lists include email addresses for people who have opted to receive email marketing messages, and email advertisements.
So, this means that if you purchase a Consumer Email List of business owners, all of the people on your list will be people who consented to receiving email marketing messages.
How many bounces should I expect?
Bounce rates depend on a variety of factors, and are generally divided into 2 categories: soft bounces and hard bounces.
Soft bounces have nothing
Do your email leads go through a validation process?
Yes! You might expect all email list service providers to use a validation software program to clean and update their email addresses. However, not all services clean and update their email databases as often as they should.
LeadsPlease cleans and updates all our email addresses frequently throughout the year, and crucially, one last time at the point of purchase. This process ensures that you receive the most up-to-date, and high-quality email leads possible, so you can concentrate on boosting sales and driving conversion rates.
Why is it important to use valid email addresses?
If you want your message or advertisement to be as successful as possible, one of the first steps is to make sure the email addresses that you're sending to are Valid.
With LeadsPlease Email Lists, you're guaranteed to receive 80+% valid Business Emails.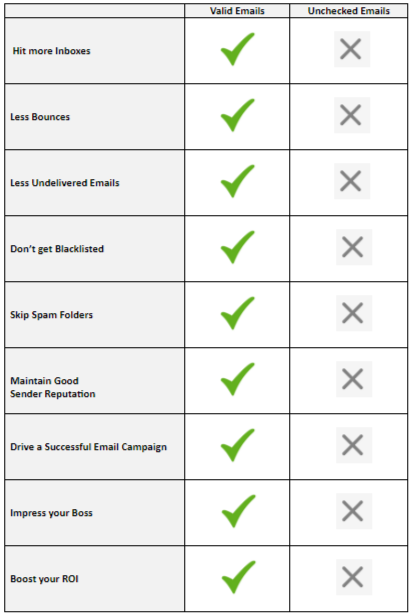 Can I get a list of Small Business Owners?
Yes! We can help you get a small business owners email list or a small business owners mailing list.
There are 22+ Million Small Business Owners in the USA; we can help you find them!
Are you a Business Owner looking to find new customers and boost sales?
If you are a Business Owner looking for new potential customers, we can help you!
Our Consumer Mailing Lists include the Names & Addresses of new prospective customers who live near your office. You can target Consumers anywhere in the USA, and narrow down using demographics like Age, Income, Home Value, Interests & Hobbies etc.
Build and download a Consumer Mailing List online in minutes.
What is included in the Business Owners Mailing List?
The following information is included in the list:
Business Owner's First & Last Name
Job Title
Business / Company Name
Telephone Number
Mailing / Postal Address
Email Address (where available)
URL
Employee Size (Number of Employees)
Company Size
Annual Sales Volume
Chain / Not Chain
Franchise / Not Franchise
SIC Code
NAICS Code
Can I get a telemarketing list?
Yes! All the Owner Leads include a phone number for the business. The phone number that's included on your list, will be the phone number that the business provides as their main phone number.
It might not be the direct phone number to the business owner themselves, but it could be.
What types of Businesses can benefit from getting a list of Small Business Owners?
Businesses offering cost & time saving products and services to small businesses can benefit from marketing to Business Owners:
Accounting Services
Bookkeeping
Office Furniture
Cleaners
Restaurants
Office Supplies
Employment Agencies
Business Conventions
Higher Education Programs
Investment Services
Real Estate
Healthcare
What return on investment can I expect?
Calculating your return on investment (ROI) should be an integral part of your marketing efforts. So, be sure to start tracking your marketing needs' expenses as you go, and save what works and ditch what doesn't.
According to a recent article by HubSpot, the average ROI from email marketing is $36 for every $1 spent!
How much does a Direct Mailing List cost?
These types of Mailing Lists start at $99.75 for up to 500 leads. The more leads you buy, the cheaper the cost per lead. Please visit our Mailing List Pricing page for more information.
How much does a Business Email Address List cost?
A Business Email Address List starts at $250.00 for up to 500 Leads.
Business Email Lists
| # RECORDS | PER RECORD | TOTAL |
| --- | --- | --- |
| 500 | 50c | $ 250.00 |
| 1000 | 30c | $ 300.00 |
| 2500 | 28.5c | $ 712.50 |
| 5000 | 27.1c | $ 1,355.00 |
| 10000 | 25.7c | $ 2,570.00 |
How accurate are the email lists?
Although we go to great lengths to frequently clean and update our lead generation databases, they will always contain a small number of undeliverable mailing addresses & emails, out of date information and data errors that are beyond our control.
On average, you can expect to receive the following accuracy rates:
Business Mailing Address & Demographics – 90+%
Contact's Email Address – 80+%
Can you help me with my email marketing?
We can definitely help you get a top-quality, up-to-date sales leads list that you can use to send your email advertisements to.
However, we do not actually deploy or send out the emails to your target audience on your behalf. We are not an 'email service'. You would be in control and responsible for designing and sending your email campaign.
What deliverability can I expect if I send a direct mailer to Business Owners?
If you purchase a Business mailing list from LeadsPlease, you can expect a 90+% deliverability.
So, this means that if you send your direct mailers to a LeadsPlease b2b marketing list within 30 days of purchase, we guarantee that 90+% of your mailers will be delivered to the correct address.
You can read more about our Deliverability & Accuracy on our Data Quality page.
Why Should I Buy a LeadsPlease List ?
Business Email Lists are not all the same.
There are a lot of lead generation companies out there, but not all of them are 'great'. Some companies don't update and maintain their business databases often, and sell old, out of date information that can severely impact your marketing campaigns.
If you need an accurate, up to date list of emails, choose a trusted lead generation business, like LeadsPlease.
LeadsPlease Lists can help entrepreneurs and small business owners with their business needs, and boost their marketing efforts without breaking the bank. Our affordable, accurate lists lead to increased email signups, new subscribers, broader outreach, and more website visitors.
But don't just take our word for it. Business.com has voted LeadsPlease as being the Best Overall List Broker for the last 2 years in a row! If you want an accurate sales leads list, more sales leads and new customers, choose LeadsPlease Lists.
LeadsPlease Business Mailing Lists
You Win
90+% Accuracy Guarantee
Only trust the Best Data Experts! 
Voted Best List Broker service, by Business.com !
10+ Million Businesses in the USA
Find the right key decision-makers using the largest database
3 easy-to-use list formats
Don't worry; we guarantee that you'll be able to use your business owners database list or we'll give you your money back!
Instant Download
Save time; get your list in minutes
Happy Customers
1000's of Happy Customers use LeadsPlease to drive successful marketing strategies and grow their businesses.
Start growing your business today!
Can you help me with my direct mail campaign?
Yes! We also offer full-service Direct Mail, where we print and mail your direct mailer for you.
For more information and pricing, please visit our Direct Mail and Direct Mail Postcards pages.
Do the Business Owners Email Lists include an email address for every owner on the list?
Yes. The Business Owners Email Lists include one email address for each business owner on your list.
For more information & pricing please visit our Business Email Lists page.
What format do the lists come in?
After you place your order online, you'll be able to download your mailing list in a .csv file format, directly from the website.
We offer 3 Easy-to-Use List Formats:
CSV File Spreadsheet
PDF Mailing Label Format for printing on Avery 5160 Labels
Printed Peel & Stick Mailing Labels

How do I get a Mailing List?
You can purchase your mailing list on our website or with a List Specialist over the phone. On average, it takes about 5 minutes to build and purchase a Mailing List.
Other Helpful Resources
Business Owners Mailing Lists FAQs
[Q]Can I exclude all companies that are part of a chain?[A]Yes you can. Select the 'not chain' option on the demography page to exclude all chain related companies.
[Q]Can I get a specific title in the business list?[A]Yes you can. We have many selects to choose from on the demography page like Chief Executive Officer or Marketing Executive. Choose as many as you want.
[Q]Will I get phone numbers and emails with my business list?[A]You will get phone numbers but if you need emails as well you will need to visit our sister site emailsplease.com where you can build a list for both direct mail and email.