A Nonprofit Email & Mailing List can help businesses connect with Nonprofit Organizations and their top-level decision makers across the USA.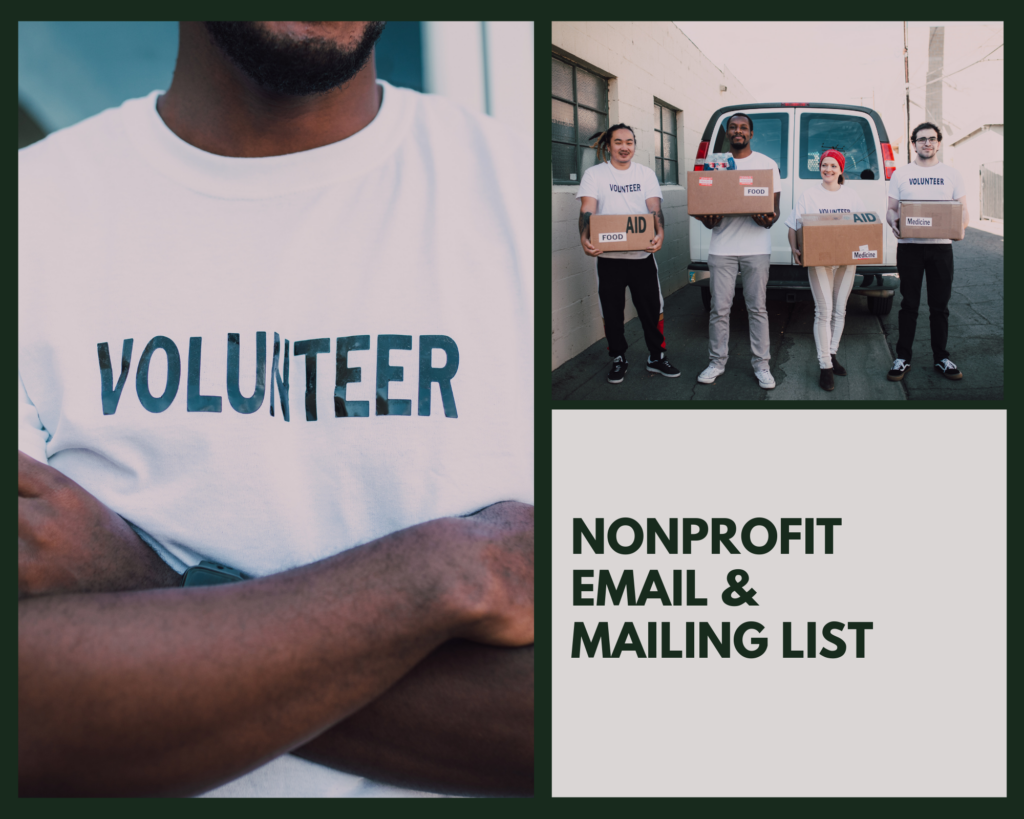 What is a Nonprofit?
A Nonprofit, according to Wikipedia, is a non-business entity that " is dedicated to furthering a particular social cause or advocating for a shared point of view. In economic terms, it is an organization that uses its surplus of the revenues to further achieve its ultimate objective, rather than distributing its income to the organization's shareholders, leaders, or members. "
What is a Nonprofit Email & Mailing List?
A Nonprofit Email & Mailing List is a marketing list that includes the Contact information for Nonprofit organizations and their leaders, anywhere in the USA.
You can get a list of all Nonprofits, regardless of Industry, or you can narrow down and target specific types of Nonprofits.
Nonprofit organizations spread across all sectors:
Health Services
Education
Religious
Social
Legal
Civic
Environmental
International Relations
Arts & Culture
What information is included in the list?
Nonprofit Name
Contact Name
Telephone Number
Mailing Address
Email Address (where available)
URL (where available)
Employee Size
Annual Sales Volume
I work for a Nonprofit. Can you help us get a mailing list of Charitable Donors who might Donate to our organization?
Yes! We can help you find & connect with People in your area who are known Charitable Donors.
To get started now, click here to start building a Consumer Mailing List or click here to Buy Email Lists & Email Address Lists.
What format does the list come in?
The list comes in 3 easy-to-use formats:
Excel file
PDF mailing label format (for Avery 5160 Mailing Labels)
Peel & Stick Mailing Labels shipped to you
Will my List include Email Addresses?
You can choose to add Email Addresses to your List. We offer 3 List Options:
Direct Mail
Direct Mail + Email
Direct Mail + Email where available
For more information & pricing please visit our Business Email Lists page.
How much does a Mailing List cost?
These types of Mailing Lists start at $99.75 for up to 500 leads. The more leads you buy, the cheaper the cost per lead. Please visit our Mailing List Pricing page for more information.
How do I get a Nonprofit Mailing List?
You can purchase your mailing list on our website or with a List Specialist over the phone. On average, it takes about 5 minutes to build and purchase a Mailing List.
Other Helpful Resources
Non Profit Mailing List FAQS
[Q]How do I get a not for profit discount?[A]Please call us for a coupon code to enter when checking out +1 866 610 3646.
[Q]We are a not for profit business and would like to offer the groups who work with us the ability to create mailing lists. Can you help?[A]Yes we can. We have an API (TheDataWidget….TM & US Patent 10,102,557) which is easy to integrate on your website. Please call us for more information +1 866 610 3646.
[Q]Can I get a telemarketing list for not for profit companies to use?[A]Yes you can but you must have a SAN which exempts you from the Federal Do Not Call Regulations before we can release consumer phone numbers.