A Manufacturing Email & Mailing List can benefit any company that has products or services to sell to other businesses in the Manufacturing sector.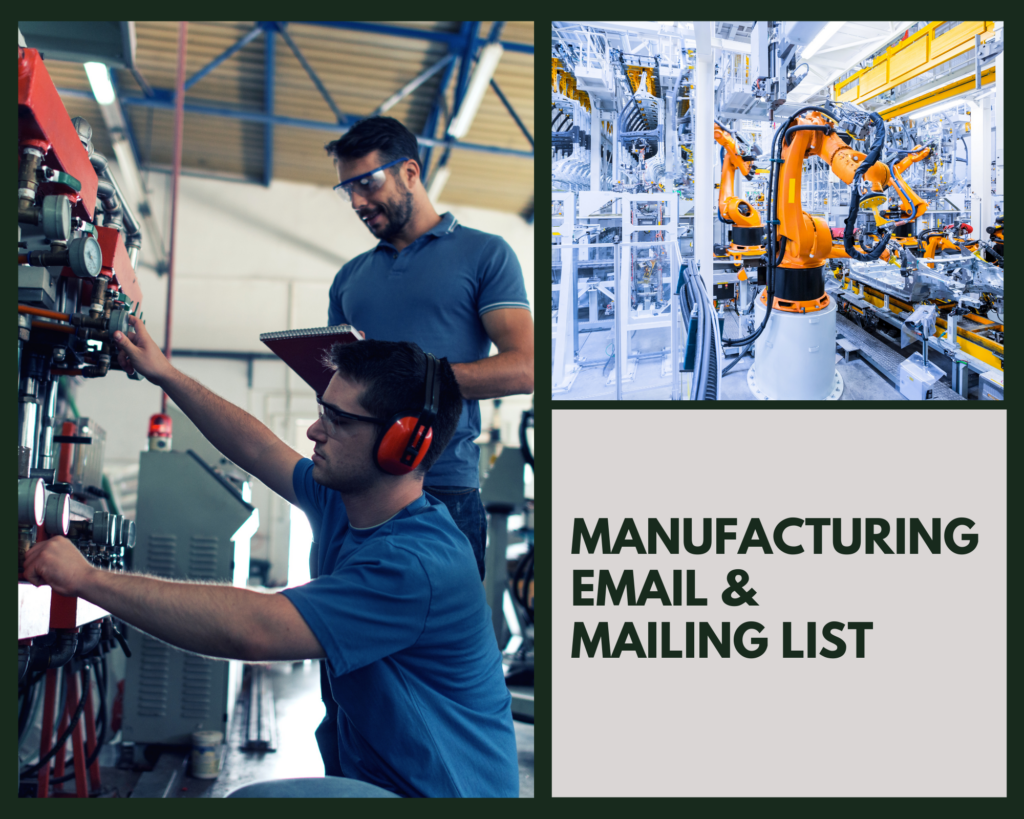 What is a Manufacturing Email & Mailing List?
A Manufacturing Email & Mailing List is a marketing list that includes the Contact information for Manufacturing companies across the USA, along with the Names & Titles of top decision makers at each company.
The list can be downloaded and saved to your computer in an Excel file format, or a PDF file format that is setup and ready to print on Avery 5160 mailing labels. We also offer Printed Peel & Stick Mailing Labels.
What types of Manufacturing businesses can I search for?
There are 273,100+ Manufacturing businesses in the USA. Here's a list of the most searched for, Manufacturing companies:
Food & Kindred Products
Tobacco Products
Textile Mill Products
Apparel & Other Textile Products
Lumber & Wood Products, Excluding Furniture
Furniture & Fixtures
Paper & Allied Products
Printing, Publishing, Allied Industries
Chemical & Allied Products
Petroleum Refining & Related Industries
Rubber & Misc Plastic Products
Leather & Leather Products
Stone, Clay, Glass & Concrete Products
Primary Metal Industries
Fabricated Metal Products
Industrial Machinery & Equipment
Electronic & Electric Equipment
Transportation Equipment
Instruments & Related Products
Manufacturing Industries Misc
What types of Businesses can benefit from a Manufacturing Mailing List?
If your business sells products or services to Manufacturing companies, you could benefit from getting a Manufacturing Mailing List and promoting your business to more Manufacturers who could become new customers.
Employment Agencies
Server & Business Solution Applications
Office Furniture
Computer Hardware & Software Solutions
Cross-Device Productivity
HR Solutions
Software Development Tools
Machinery Rental & Sales
How much does a Mailing List cost?
Business Mailing Lists start at $99.75 for up to 500 leads. The more leads you buy, the cheaper the cost per lead. Please visit our Mailing List Pricing page for more information.
Will my List include Email Addresses?
You can choose to add Email Addresses to your List. We offer 3 List Options:
Direct Mail
Direct Mail + Email
Direct Mail + Email where available
For more information & pricing please visit our Business Email Lists page.
How much does an Email List cost?
Business Email Lists start at $250.00 for up to 500 leads.
For more information & pricing please visit our Business Email Lists page.
How do I get a list of Manufacturing companies?
You can purchase your mailing list on our website or with a List Specialist over the phone. On average, it takes about 5 minutes to build and purchase a Mailing List.
Other Helpful Resources
Manufacturing Mailing List FAQs
[Q]How do I make sure I mail to the headquarter of the company?[A]We have a headquarters select available on our demography page.
[Q]I only want to target manufacturing companies in an area close to my business. What is the best way to do this?[A]We have two ways to best achieve this. The first is to select your geographic area by specific zip code, city or county. The second is by drawing a radius around an address. This way you can control the area you want to target and see the geographic area immediately on a map.
[Q]If I can't find the select I'm looking for can you help me?[A]Yes we can. We only make the most requested selects available on line. Our researchers can definitely help you. Please call us +1 866 306 8774 or https://www.leadsplease.com/contact.