Reach New Customers Quickly &
Grow Your Business
Direct Mail doesn't have to be expensive or frustrating. We make it quick, easy and affordable to design and send a Postcard campaign.
Do you need Postcards to hand-out or mail at a later date? No problem! We also offer Boxed & Shipped Postcards that are ready for you to hand out to Customers now or mail them in the future.
Connect with new customers and boost sales and grow your company.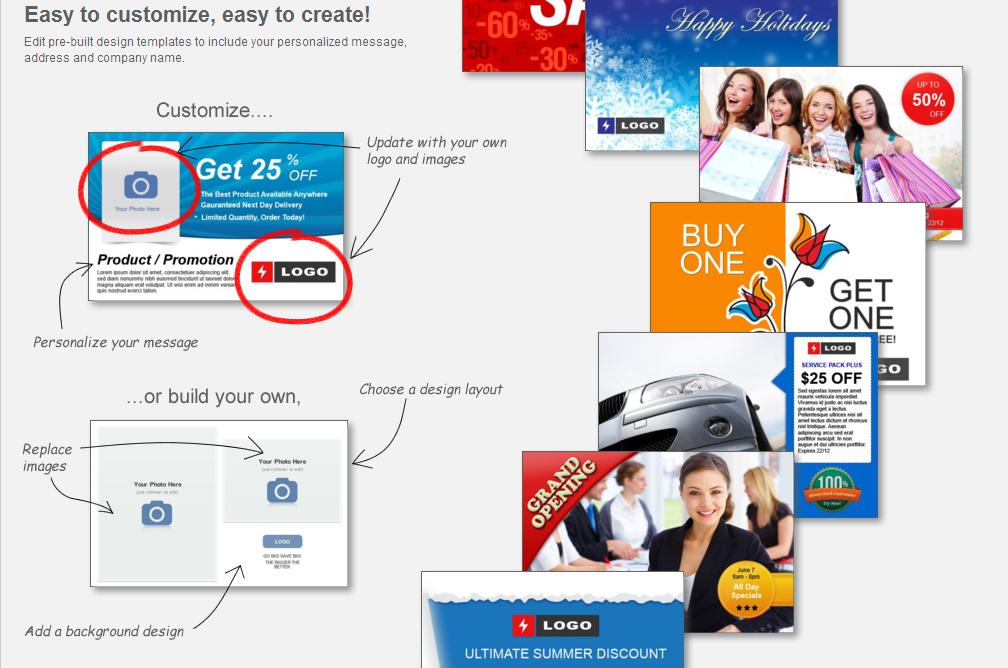 Eye Popping Postcards by Industry
Customize your Postcard online; 100's of professional, eye popping Templates to choose from. Order them Boxed and shipped to you or Printed & Mailed.
We offer 2 sizes: Standard 6 x 4 or Oversized 8.5 x 5.5
Beauty & Fitness
Events & Invitations
Food & Drink
Healthcare
Holiday & Seasonal
Home & Maintenance
Real Estate
Design Your Own
Postcard Pricing
Standard 6″ x 4″ Postcards – Direct Mail with Standard Class Postage
| DIRECT MAIL | EACH | TOTAL |
| --- | --- | --- |
| 2,500 | ¢67 | $1,675.00 |
| 5,000 | ¢61 | $3,050.0 |
| 10,000 | ¢57 | $5,700.00 |
| 25,000 + | ¢55 | $13,750.00 |
Standard 6″ x 4″ Postcards – Direct Mail with 1st Class Postage
| DIRECT MAIL | EACH | TOTAL |
| --- | --- | --- |
| 2,500 | ¢68 | $1,700.00 |
| 5,000 | ¢63 | $3,150.00 |
| 10,000 | ¢59 | $5,900.00 |
| 25,000 + | ¢56 | $14,000.00 |
Oversized 8.5″ x 5.5″ Postcards – Direct Mail with Standard Class Postage
| DIRECT MAIL | EACH | TOTAL |
| --- | --- | --- |
| 2,500 | ¢73 | $1,825.00 |
| 5,000 | ¢67 | $3,350.00 |
| 10,000 | ¢63 | $6,300.00 |
| 25,000 + | ¢61 | $15,250.00 |
Oversized 8.5″ x 5.5″ Postcards – Direct Mail with 1st Class Postage
| DIRECT MAIL | EACH | TOTAL |
| --- | --- | --- |
| 2,500 | ¢95 | $2,375.00 |
| 5,000 | ¢88 | $4,400.00 |
| 10,000 | ¢84 | $8,400.00 |
| 25,000 + | ¢83 | $20,750.00 |
Other Helpful Resources
Happy Customers
"I got a mailing list, created a great looking postcard, and sent it out – all right from my laptop. Truly incredible."

Cristy Clark, Print Monster – Detroit, MI