Solar leads are potential customers who have expressed interest in solar panels, solar installation and other solar products or services. In today's rapidly growing solar industry, the key to solar service businesses' success lies in effective lead generation.
High quality Solar leads play a crucial role in helping solar companies and sales professionals boost their sales and expand their business. In this informative page, we will explore the importance of solar leads and how they can drive success in the solar industry.
If you're looking for top-quality Solar Leads, please click on the button below to Contact Us for more information, pricing and quotes.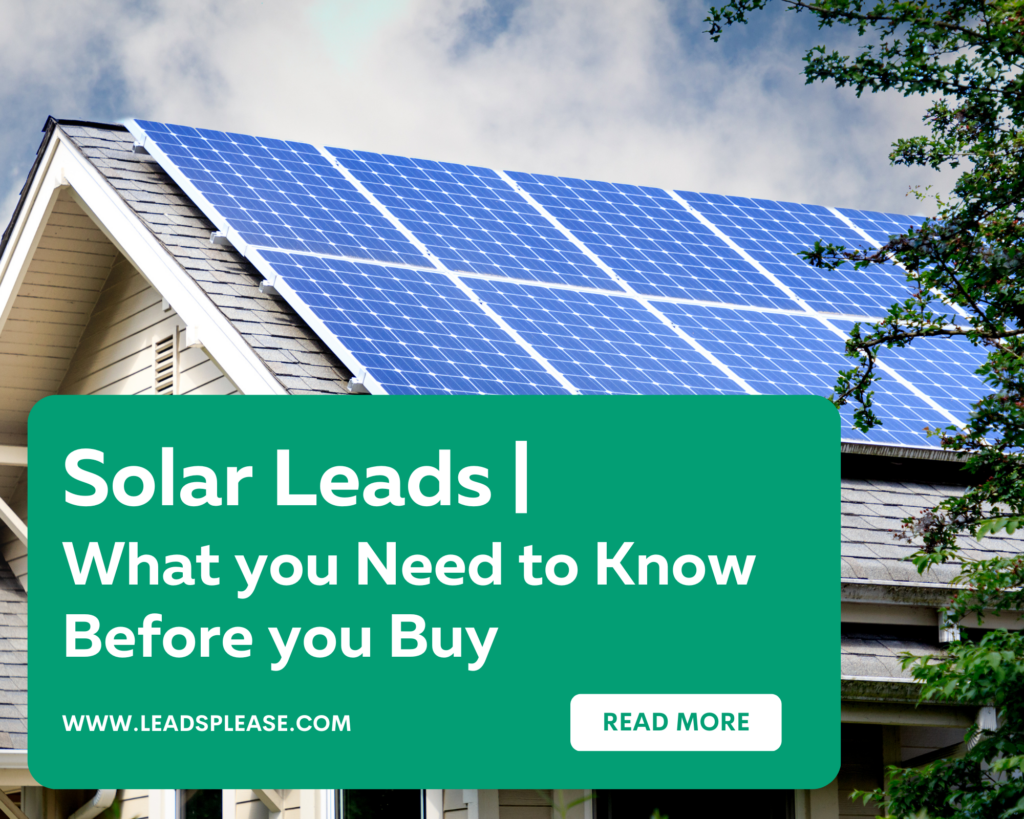 What are Solar Leads?
Solar Leads are homeowners and potential customers who have expressed an interest in solar products or services. They normally include critical contact details for each consumer, and important information about their home, roof, credit rating, and their interest in related products.
Simliarly to referrals, they are the lifeblood of the solar industry, offering a pathway to increased sales and business growth for solar companies and solar sales professionals.
Why are high-quality Solar Leads important for Solar Sales Professionals?
Buying high-quality prospects' contact details is important for Solar Sales Professionals for the following reasons:
Increased Efficiency
Instead of spending countless hours scouring for potential customers, you'll have a ready list of prospects who have already shown interest in solar installations. This means you can dedicate more time to engaging these leads, crafting personalized pitches, and closing sales.
By buying solar leads, you effectively streamline your sales funnel, improving your overall productivity.
Efficiency and productivity are game changers for small business owners and sales professionals in the sales world.
Higher Conversion Rates
Leads that you purchase from reliable sources are typically pre-qualified, which means they've expressed interest in or sought information about solar energy. They are more likely to convert than cold leads, leading to higher conversion rates. Remember, it's not about the quantity of leads; it's about the quality.
Reach Larger Areas
Purchasing prospects' contact information can help you tap into markets or regions you may have struggled to reach on your own. Lead generation companies often have extensive networks and sophisticated tools to reach a broad range of potential customers.
By purchasing these prospects' contact details, you can expand your business's reach, potentially leading to more sales and growth. With the ability to purchase leads in targeted regions, breaking into new markets is a more streamlined process.
Cost Effective
While there's an upfront cost associated with buying these homeowners' contact details, it's often more cost-effective in the long run. Think about the resources you'd spend on wide-reaching marketing campaigns or the man-hours dedicated to prospecting.
Purchasing sales-ready leads can lead to the optimization of your sales process, boost your marketing strategies and offer a better return on investment. These leads offer allow you and your sales team to directly target individuals already interested in your offering.
Can qualified Solar Leads help me increase my conversion rates & boost my solar sales?
Yes! Contact information that you purchase from reliable solar lead generation sources are typically pre-qualified, which means they've expressed interest in or sought information about solar energy, solar panels or solar business.
Solar Leads are more likely to respond to incentives, and solar marketing. They are also more likely to accept appointments for solar systems and have a higher propensity to convert than cold leads, leading to higher conversion rates.
What different types of Solar Leads can I buy?
Most are grouped and categorized by the 'Age' of the leads. So, for example, the newest, most recent leads might be grouped in the 1-30 days category.
1-30 Days
30-60 Days
60-120 Days
120+ Days
How much do solar leads cost?
Solar lead prices vary by company and are frequently subject to change. Stay current with what's being offered so that you purchase the leads best suited to your sales style and target audience.
Real-time Solar Leads | Pricing
Real-time leads are always going to be drastically more expensive than aged leads, with some websites offering rates between $15 to $79 per lead.
Aged Solar Leads | Pricing
Aged leads are normally less expensive than real-time leads, and pricing varies from company to company. In most cases, the cost depends on how many leads you want to get, and how 'old' the leads are.
| | | |
| --- | --- | --- |
| Age of the Leads | Quantity of Leads | Average Cost per Lead |
| 30-60 days old | 1-249 | $1.50 |
| 60-90 days old | 250-999 | $1.20 |
| 90-120 days old | 1,000-2,499 | $0.50 |
| 120+ days old | 2,500-4,999 | $0.25 |
How are solar leads generated?
Solar leads are typically generated through various channels such as landing pages, radio ads, TV commercials, or any other medium where potential customers express their interest in transitioning to solar power.
What are 'exclusive leads'?
Exclusive leads are leads that are only sold one time. In other words, the lead's contact details and information about their interest in solar, is sold 'exclusively' to one buyer.
However, you should proceed with caution when a company tells you that their leads are exclusive. Most leads are sold to more than one person/company, and it's extremely unlikely that a lead is only sold one time, to one buyer.
What format are the leads?
Leads normally come in an electronic .csv file format. They are easy to download and easy to upload into your crm.
What information is included with each Lead?
Leads differ from across providers. However, most high-quality leads include some or all of the following contact information:
First Name
Last Name
Phone Number
Email Address
Home Mailing Address
Date they showed Interest
Roof Specifications
Estimated Credt Rating
What are 'real time' solar leads?
People who have expressed an interest in solar installation in the last 24-48 hours, are often considered as "live" or real-time leads.
These are often very expensive, and are sold for anywhere between $10-$99 per lead. These leads are 'hot'
What are 'aged' solar leads?
Leads that don't sell during the first 24-48 hours become "aged" and are subsequently offered at discounted rates. This presents an excellent opportunity for sales professionals seeking to purchase cost-effective leads in bulk.
Aged leads are categorized based on their age, typically denoted as 30, 60, or 90-day-old leads, for instance. While these leads may have been previously sold to other companies, they still hold significant value for your business, provided they are still actionable.
Where can I buy Solar Leads?
Other Helpful Resources
Solar Leads FAQs
[Q]Can I use the email addresses in my digital marketing?[A]Yes!
[Q]Can I use your leads to book solar appointments?[A]Yes!
[Q]Can you help me with social media ads and google ads?[A]Yes! Please Contact Us for more information.
Happy Customers Growing their Businesses with LeadsPlease Leads