Get an accurate, up-to-date Realtor Email List & Mailing List and start connecting with Realtors and Real Estate companies across the USA.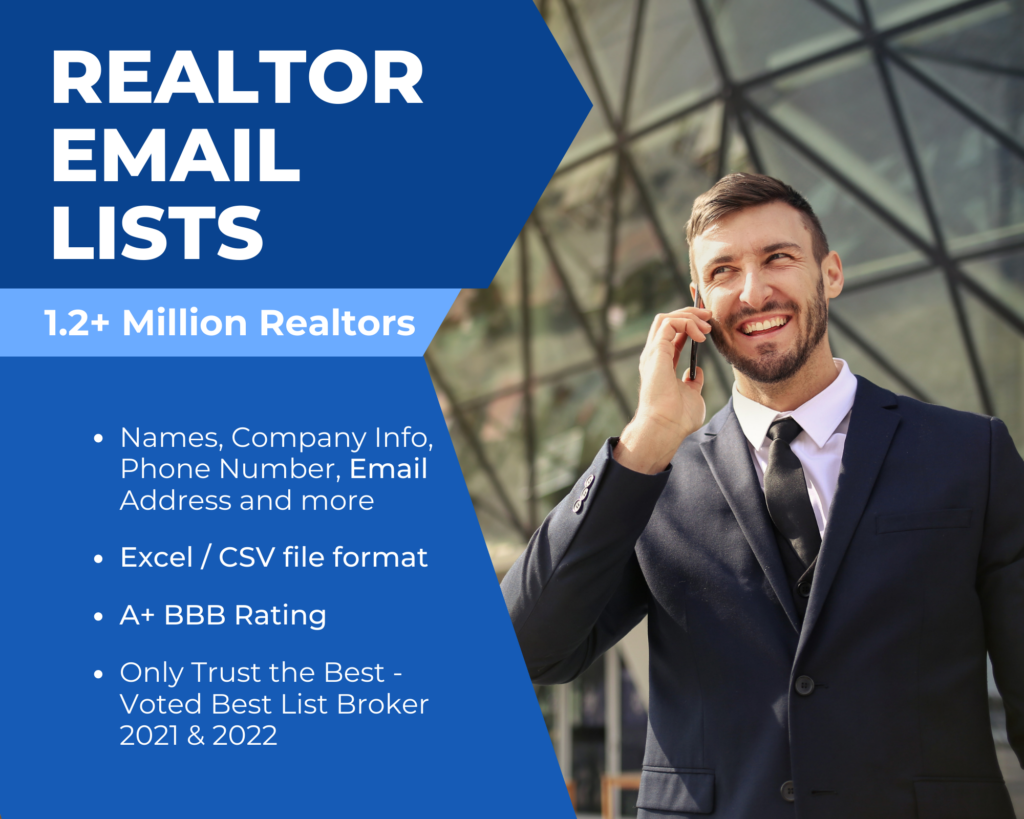 What is a Realtor Email List?
A Realtor Email List is an email marketing contact list, that includes the Names, postal Mailing Addresses, Email Addresses and other important contact information for Realtors, Real Estate Professionals and Real Estate Offices across the USA.

LeadsPlease is the ultimate source for accurate, and continually updated realtor email database sales leads.
If your company offers products and services to the Real Estate sector, you can ensure maximum outreach with a Realtor Email List. Find new customers and drive a successful email marketing campaign with up-to-date, high-quality emails.
I don't need emails. Can I get a realtor mailing list?
Yes! We also offer Realtor Mailing Lists. These lists are for direct mail purposes and do not include email addresses.
Realtor Mailing Lists include the Realtors' First and Last Name, their Business Name and the Postal Mailing Address.
I'm a Realtor. Why do I need a List of other Realtors?
An accurate list of real estate agents will help you network with other Realtors, and develop relationships with key players in the real estate industry.
If you're a realtor, knowing who your competition is and letting them know who you are, is critical if you want to be a winner in the tough real estate business.
After you introduce yourself to other Realtors in your area, you'll start building contacts. Realtors often reach out to other Realtors when they land a new listing to see if they can make a quick sale before the listing goes public.
Know your competition and be the Realtor everyone knows! Get an accurate real estate email list today, and take your business to the next level.
Can I get a list of estate agents social media handles?
Yes! We also offer social media information so you can contact realtors and agents via the most popular social media platforms like FaceBook, Twitter and LinkedIn.
If you want to take your marketing efforts to the next level, we strongly suggest adding social media handles to your email address list and connect with potential clients via email and social media.
Please Contact Us for more information and pricing.
Do your real estate agent email lists include the Name of a Decision Maker at every company?
Yes! You can choose to receive the Name of the Realtor, or another decision maker at the company. You can search by Occupation and Job Title.
Our lists help you connect with the right people in the Real Estate market from Real Estate Agents & Brokers, to Builders and Developers.
What Job Titles can I search for?
Realtor
Real Estate Broker
Owner
Manager
Agents
Appraiser
Commercial Real Estate Agents
Abstractors
Developers
Property Management
How many Realtors are in your database?
There are 1.26 + Million Realtors in our database.
How often do you update your real estate agent mailing lists?
We update the realtor email database continuously throughout the year using USPS approved address correction software, and email address verification.
We also run every Email List through a final email address verification process at the time you place your order. This ensures that you get the very best quality email addresses, that generate more successful marketing campaigns.
Can I get a list of all real estate agents in the USA?
Yes! You can choose to get a list of all the Realtors in the USA, or you can narrow down and target Realtors who live in specific States.
How accurate are your Realtor Email Lists?
We are extremely serious about the high quality, deliverability rate and accuracy of our sales leads. We're not an 'average' lead generation company.
We perform rigorous data quality tests on all our directories, including our realtor database. This way we ensure the best quality real estate databases and real estate leads.
Realtor Email Addresses : 90+% Accurate
Real Estate Company Name & Mailing Address : 92+% Accurate
You can read more about our data cleansing procedures and policies on our Data Quality page.
What email deliverability can I expect?
Email deliverability depends on a lot of different facors. An accurate, up-to-date email list is one piece of the puzzle, but not the only important aspect.
Email deliverability also depends on your content, your call-to-action (CTA), your offer and your relevancy.
Should I include an unsubscribe option in all my emails?
Yes! It's very important to give your readers an option to unsubscribe from your emails if they want to. It also results in less people marking your emails as Spam.
What format do your list of realtors come in?
Our email marketing lists come in .csv / excel file format.
This is an easy-to-use spreadsheet file format that you can email to your printer, or upload into your CRM.
Do you replace or refund bad email addresses?
Yes! We will replace or refund any invalid real estate agents email addresses or hard bounces.
Can I get a list of real estate agent contacts by state?
Yes! You can get a list of real estate agents, or real estate professionals who are located anywhere in the USA.
You can target specific States (ex. Florida, Texas etc) or specific Counties, Cities or individual zip codes. Whatever your marketing strategy is, we're here to help and have a targeted list just for you.
What type of Real Estate companies can I include on my list?
You can get a list of 'all Real Estate' related companies, or you can narrow down by SIC Code/s.
Real Estate Operators
Lessors
Real Estate Managers & Agents
Title Abstract Offices
Land Subdivides
Land Developers

What information is included in a Real Estate Mailing List?
We can help you find 'all Real Estate' related companies, or you can narrow down to specific types of Finance companies, and by demographics:
Company Name
Phone Number
Mailing Address
Contact Name
Contact Title (ex. Owner, President, Manager etc)
Email Address (where available)
URL
Employee Size
Annual Sales Volume
Chain / Not Chain
Franchise / Not Franchise
Will my List include Email Addresses?
Yes, you can choose to add Email Addresses to your List. Our Email Addresses are accurate, verified and up-to-date.
After you purchase your email list of real estate agents you'll have all the important contact information you need, to start email marketing to your target audience in minutes.
For more information & pricing please visit our Business Email Lists page.
I'm a Realtor. Can you help me get a contact list of Renters and potential Home buyers?
Yes! We also have 100% Opt-In Email Lists for Renters and Homeowners across the USA.
Find new leads quickly and start advertsing open houses, new homes for sales, and auctions now.
Do you lists include Fax numbers?
No. It is illegal to send marketing advertisements via fax in most states now, so we do not include fax numbers on our lists.
Do the lists include Phone Numbers for telemarketing?
Yes, You can choose to include Phone Numbers on your List.
How much does a Realtor Email List cost?
Realtor Email Lists start at $250.00 for up to 500 leads.
The more leads you buy, the cheaper the cost per lead. Please visit our Mailing List Pricing page for more information.
How do I get an Email List?
You can purchase your mailing list on our website or with a List Specialist over the phone. On average, it takes about 5 minutes to build and purchase a Mailing List.
Other Helpful Resources
Real Estate Mailing List FAQs
[Q]Can I see what kind of Real Estate data I will be getting before I commit?[A]Yes you can. When you get to the count result page you can 'see my leads'. This link takes you to the first one hundred rows of your list and the primary and secondary SIC description columns give you this detailed information.
[Q]Do I get any title in the list without specifically picking one?[A]Yes you do. If you click on 'see my leads' link and view your list you can see what titles you automatically get.
[Q]I only want real estate developers in my list. Is this possible?[A]Yes it is. You can search for and select real estate developers on the SIC page.