Church Email Lists & Church Mailing Lists can help businesses connect with Churches, Pastors and Religious Leaders across the USA.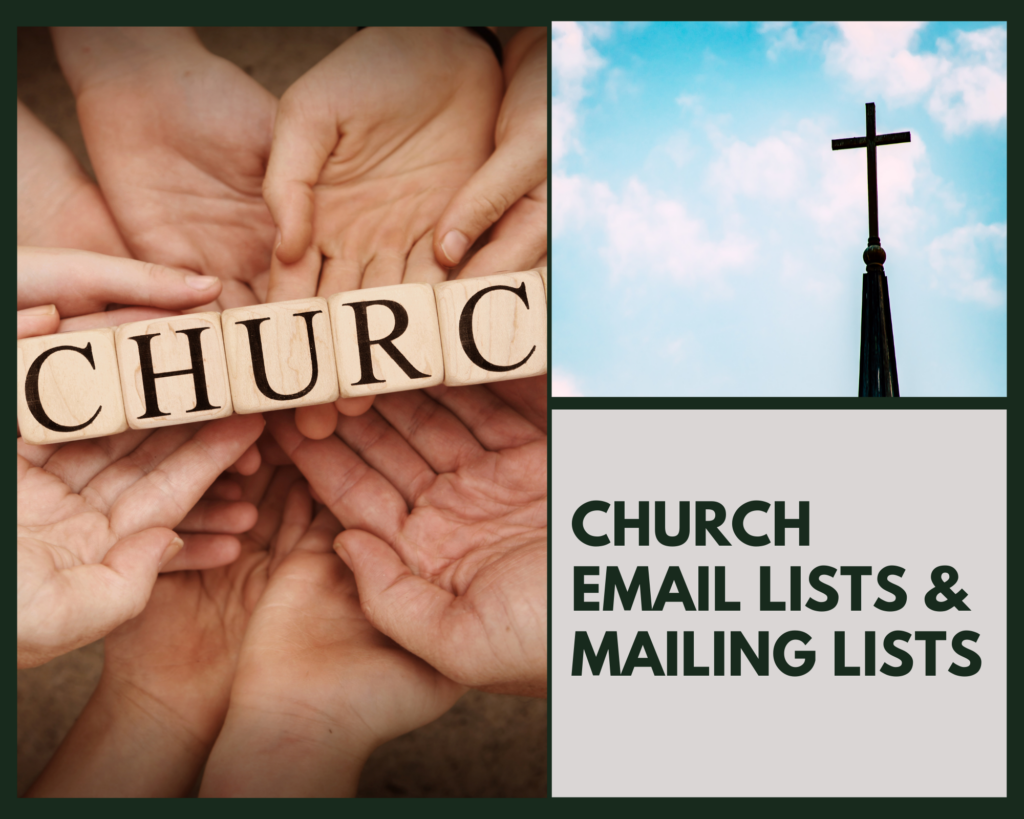 What is a Church Mailing List?
A Church Mailing List is a marketing list that includes the Contact information for Churches and Church leaders anywhere in the country.
You can get a list of all Churches, or you can target specific types of Churches and denominations:
Baptist
Catholic
Non-Denominational
Methodist
Lutheran
Pentecostal
Presbyterian
Church of Christ
Church of God
Episcopal Church
Mormon
Seventh Day Adventist
Community Church
Apostolic
Covenant & Evangelical
Church of Nazarene
Mennonite
Brethren
Interdenominational
Greek Orthodox
Reformed
Metaphysical & New Age
Miscellaneous Denominations
What information is included in the list?
Church Name
Religious Leader / Pastor's Name
Telephone Number
Mailing Address
Email Address (where available)
URL (where available)
Employee Size
Annual Sales Volume
Do your Church Email Lists include an email address for every Church on my List?
Yes. If you choose to get a 'Direct Mail + Email' List, there will be an email address for every Church on your List.
Why should I purchase a Church Mailing List?
According to a 2016 study by the Religious Freedom & Business Foundation, religion annually contributes about $1.2 trillion dollars of socio-economic value to the United States economy. And this religious market is growing year to year!
A Church Mailing List can help you connect with this booming market, and help you grow your business.
I work for a Church and we are looking to boost the Church's Membership & Attendance. Can you help?
Yes! We can help you find & connect with families who live near your Church.
To get started now, click here to start building a Consumer Mailing List.
What format does the list come in?
The list comes in 3 easy-to-use formats:
Excel file
PDF mailing label format (for Avery 5160 Mailing Labels)
Peel & Stick Mailing Labels shipped to you
Will my Church List include Emails?
You can choose to add Email Addresses to your List. We offer 3 List Options:
Direct Mail
Direct Mail + Email
Direct Mail + Email where available
For more information & pricing please visit our Business Email Lists page.
How much does a Mailing List cost?
These types of Mailing Lists start at $99.75 for up to 500 leads. The more leads you buy, the cheaper the cost per lead. Please visit our Mailing List Pricing page for more information.
How much do the Church Email Lists cost?
These Lists start at $250.00 for up to 500 Leads.
For more information & pricing please visit our Business Email Lists page.
How do I get a Church Mailing List?
You can purchase your mailing list on our website or with a List Specialist over the phone. On average, it takes about 5 minutes to build and purchase a Mailing List.
Other Helpful Resources
Church Mailing List FAQs
[Q]Do you have a 'Not For Profit' discount for churches?[A]Yes we do. Please call us on 866-306-8674 and we can help you with a coupon code.
[Q]Can I select different religious denominations?[A]Yes you can. There are many different religious denominations you can select on the SIC page of our business database. Enter 'church' and click search.
[Q]If I can't see the religious denomination I am looking for can you help?[A]Yes we can. Please fill in a 'contact request' https://www.leadsplease.com/contact and our researchers will help you find what you are looking for.