Boat Owners Email Lists & Mailing Lists connect you with Boat Owners across the USA who are big spenders on Boats, Boat Accessories, Marine Equipment and Supplies, and Travel.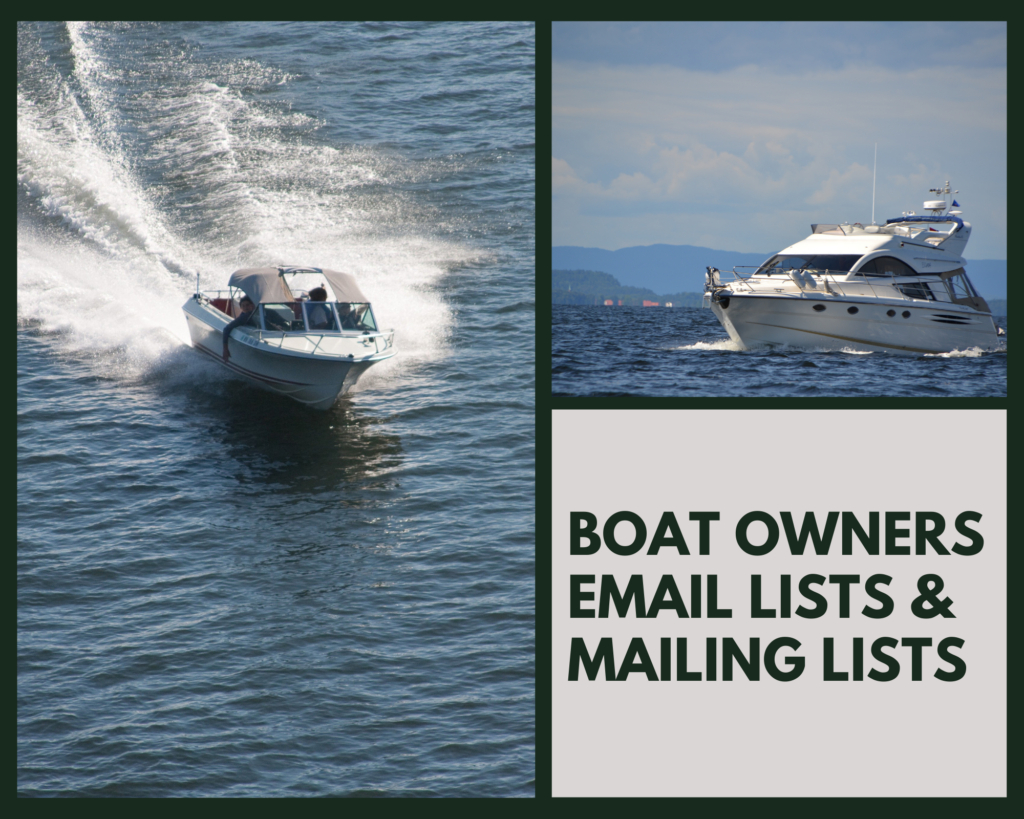 What is a Boat Owners Mailing List?
A Boat Owners Mailing List is a marketing list that includes the Names & Addresses of Boat Owners across the country.
Can I get a list of people who own 'Big' Boats?
Yes! You can target Boat Owners by the length of the boats.
So for example, you could get a list of Boat Owners who have Boats that are 20+ Feet long, where the estimated Household Income is $100,000 +.
How accurate are your lists? How do you know if someone is a Boat Owner?
We clean and update our data daily, as new information becomes available, and boast a 95+% accuracy rate.
Boat Owner information is compiled from online and offline purchases (ex. Marinas, Boat Supply Stores etc), memberships, warranties, subscriptions, questionnaires and surveys.
Why should I buy a List from LeadsPlease?
95+% Accurate
Verified Boat Owners
Add Demographics at no extra cost (ex. Income, Home Value etc)
Starting at $99.50
What types of Businesses can benefit from marketing to Boat Owners?
Marinas
Outdoor & Sports Supply Stores
Boat Repair
Boat Storage
Tackle Suppliers
Sporting Goods Stores
Boating Accessories
Insurance Providers
Boat Manufacturers
Travel Companies
Fishing Gear
Navigation Equipment Suppliers
How many Boat Owners are in the USA?
There are about 17 Million Boat Owners in the USA, contributing to an estimated $170+ Billion to the US economy.
Can I see a Sample Mailing List?
Yes! Click below to download a Sample Mailing List in CSV File Format and PDF Mailing Label Format:
LeadsPlease Sample Consumer Mailing List – CSV FileDownload
LeadsPlease Sample Consumer Mailing List – PDF FileDownload
Do the Boat Owners Email Lists include an email address for every boat owner on the list?
Yes! The Boat Owners Email Lists include one email address for each boat owner on your list.
Please Contact Us for more information & pricing.
How much does a Boat Owners Mailing List cost?
The lists start at $99.50 for up to 1,000 leads. The more leads you buy, the cheaper the cost per lead. Please visit our Mailing List Pricing page for more information.
How do I get a Mailing List?
Please Contact Us for more information, or give us a call to place an order: 1 866 610 3646
Other Helpful Resources
Boat Owners Mailing List FAQs
[Q]Can I get a boat owners mailing list by type of boat?[A]Yes you can. You would need to call us to place your order because this would be a specialty list: 1 866 306 8674.
[Q]Can I add other demographics selects like age and income to the list?[A]Yes you can. Call us so we can help you: 1 866 306 8674.
[Q]Are your boat owners verified somehow?[A]Yes they are.