Senior Citizen Email & Mailing Lists help you connect with Seniors across the country. 
There are 67+ Million Senior Citizens in the USA, and we can help you find them!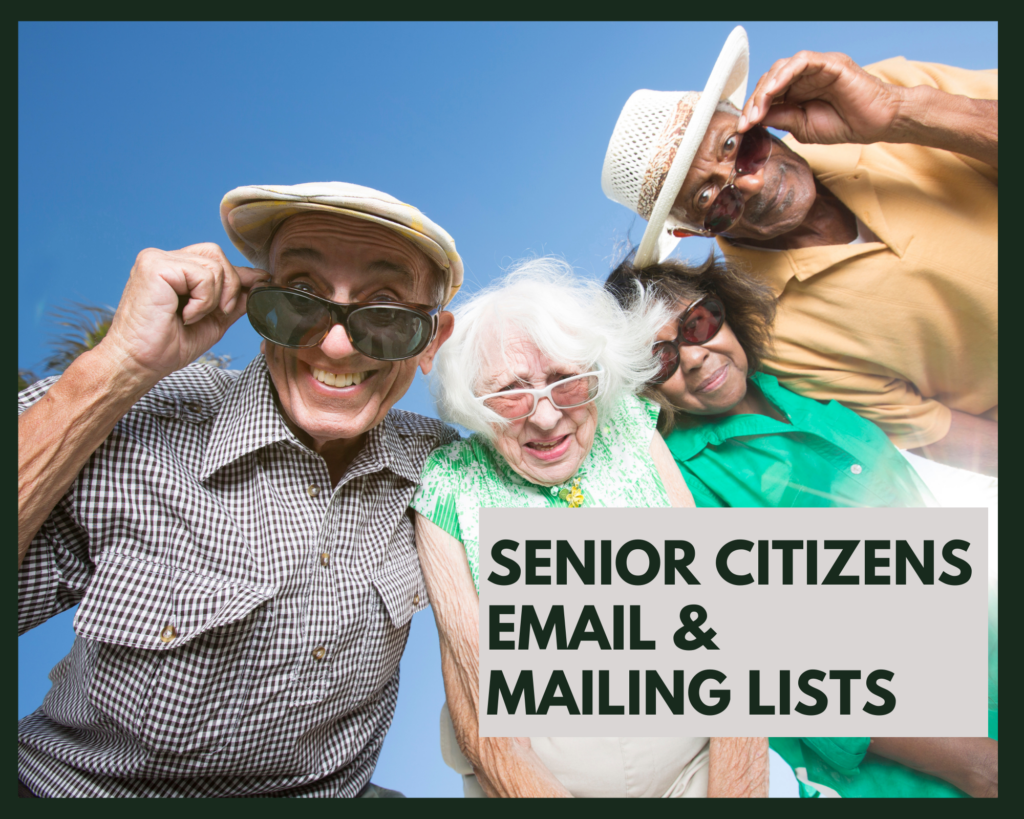 What are Senior Citizen Email & Mailing Lists?
They are direct marketing and digital marketing lists used for direct mail marketing and email campaigns. The lists include the Names and Postal Mailing Addresses and Emails Addresses of older adults who are 60+ years old.
You can choose to get a list of all Seniors Age 60+, or you can specify a specific age range and add demographics (ex. Seniors Age 65-80, Homeowners, Interest in Golf).
You can also target older people who are Turning 65 years old soon and who will be eilgible for Medicare soon.
Your Seniors Mailing List includes:
Senior Citizen's First & Last Name
Street Address
City
State
Zip Code
Age
Email Address (ex. @gmail.com, @outlook.com, @yahoo.com etc)
+ Other demographic information if selected (ex. Ethnicity, Hobbies etc)

Do you offer Senior Citizen Email Lists?
Yes! If you'd like to send an Email Marketing campaign to Seniors, you can purchase a database of seniors or a Senior email marketing list that includes Email Addresses.
For more information on Senior Citizen Email Lists please click here:
Buy Email Lists & Email Address Lists.
Do you have telemarketing lists with Phone numbers?
We can add Telephone Numbers to most sales leads lists. If you need a senior citizen database for telemarketing, please visit our Phone Number List page for more information and pricing.
Do you send out the emails for me?
No, sorry, we do not send out the emails on your behalf.
We sell the Names and Email Addresses in a .csv file format, which you can use to send out an email marketing campaign. We do not send out or deploy the emails for you. You are responsible for designing and sending out your emails.
Why should I use a professional email service to send out my emails?
We recommend sending your emails out from a reputable 3rd party email service, not from your personal email account. But be careful; some email services allow you to upload a list of purchased email addresses, and some do not.
A great email service will include an intuitive interface and help you deploy your emails quickly and effectively. The best email services will also help you get more emails delivered to your prospects' Inboxes and lower the number of undeliverable emails, scam notifications and bounces that you experience.
Don't get flagged as a scammer or someone who sends phishing emails. Use a professional email service to send out your email messages.
Can you help me reach family members who are living with a Senior or Grandparent?
Yes! We also have a filter for older people and 'Grandparents in the home'. This criteria is helpful for businesses who want to send direct mail or email marketing to family members who are living with a Grandparent.
Can you help me reach senior citizens who are agining into Medicare?
Yes! We specialize in Turning 65 Lists of Medicare Leads.
What types of Seniors can I search for and include on my mailing list?
Seniors aren't all the same. So, we understand it's important to be able to create a targeted mailing list that is tailored to your business needs.
You can get a list of all People who are Age 60+, or you can narrow down your list and make it more targeted using any of the 100's of demographic selects that we offer.
Here are some examples of our most popular types of Senior Mailing Lists:
Affluent / Wealthy Seniors
Seniors who have an Interest in Travel
Seniors who are Homeowners
Seniors who are Retired
Seniors who have an Interest in Investments
Seniors who play Golf
Seniors who own a Boat
Seniors with a Veteran in the Household
Seniors who are Religious
Seniors with Pets
What Types of Businesses Can Benefit from using a Senior Citizen Mailing List?
A List of Seniors provides extremely targeted leads for Businesses who want to reach people who are retired, or are nearing retirement:
Medicare Insurance Providers
Retirement Homes / Communities
Long-term Care Facilities
Nursing Homes
Senior Care Services
Independent Living Services
Assisted Living Facilities
Caregivers Assistance
Cruise Offers
Financial Planners
Reverse Mortgage Offers
Healthcare Services
Optometrists
Estate Planning
Golf Shops & Courses
Pharmacies
Home Services
Home Improvement
Volunteering
Travel Companies
Fitness Clubs / Classes
How many Seniors are in my area?
There are about 67+ Million Seniors in the USA. To find out how many Senior Citizens are in your area, you can run a search on our website, or give us a call and we'll be happy to help you.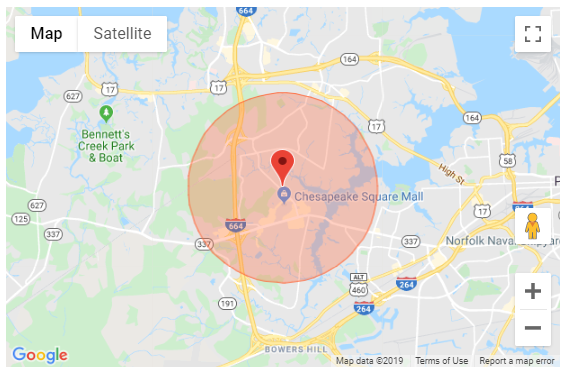 Can you help me get the social media information for Seniors?
No, sorry, we do not currently offer Consumer social media handles.
How much does it cost?
Senior Citizen Mailing Lists for direct mail, start at $99.50 for 1,000 Leads. The cost per lead goes down, as you buy more leads.
You can purchase Lists online, or over the phone with one of our List experts. We accept all major credit cards.
| # RECORDS | PER RECORD | TOTAL |
| --- | --- | --- |
| 1000 | 9.95c | $ 99.50 |
| 2500 | 9c | $ 225.00 |
| 5000 | 6.5c | $ 325.00 |
| 10000 | 4c | $ 400.00 |
| 25000 | 3c | $ 750.00 |
Can I get my List in a PDF format for printing Labels?
Yes! You can get your List in a CSV File Format and a PDF Mailing Label Format, for the same low price.
The PDF Mailing Label Format makes printing your Labels quick and easy. Click below to see & download a Sample PDF Mailing Label Format file:
LeadsPlease Sample Consumer Mailing List – PDF File Download
Why Should I Buy a LeadsPlease List?
Our customers use email and mailing lists to increase sales, boost traffic, and advertise new products, services and events.
But Lists aren't all 'equal'. There's a lot of bad, inaccurate information for sale, and as the old adage goes, "you get what you pay for".

Here are a few reasons why Clients continue to buy LeadsPlease Lists:
| | |
| --- | --- |
| LeadsPlease Consumer Mailing Lists | You Win |
| Voted "The Best List Broker Services" | Only trust the Best! Get your List from Business.com's voted " Best List Broker " |
| 95+% Accuracy Guarantee | Don't waste time & money on bad leads. Get high-quality, accurate sales leads. |
| 210+ Million Prospects in the USA | Find the right prospects using the largest database |
| 3 easy-to-use list formats | Don't worry; we guarantee that you'll be able to use your list or we'll give you your money back! |
| Instant Download | Save time; get your list in minutes |
| Happy Customers | 1000's of Happy Customers use LeadsPlease to grow their businesses. Start growing your business too! |
How do I get a Senior Citizen Mailing List?
You can purchase Senior Citizen Mailing Lists on our website or with a List Specialist over the phone. On average, it takes about 5 minutes to build and purchase a Mailing List.
Other Helpful Resources:
Senior Citizen Mailing Lists FAQs
[Q]How do I target people aging into Medicare?[A]We have a select 'Turning 65' by birth month. You can select the months the people become 65.
[Q]If I want you to print peel and stick mailing labels is there a way to show me the birth month of the person turning 65?[A]Yes there is. When you order your mailing labels ask us to add the birth month to the bottom right of the labels. we add a number to represent the month. For example: January = 1 and December =12.
[Q]Can I get the phone numbers for people aging into Medicare?[A]We have the phone numbers but we are not allowed to release them without a Subscription Account Number(SAN) which releases you from the federal Do Not Call Regulations.