Investors Email Lists & Mailing Lists can help your business connect with People who are likely to Invest. Investors usually have a High Net Worth, a stable Income and a high propensity to Invest.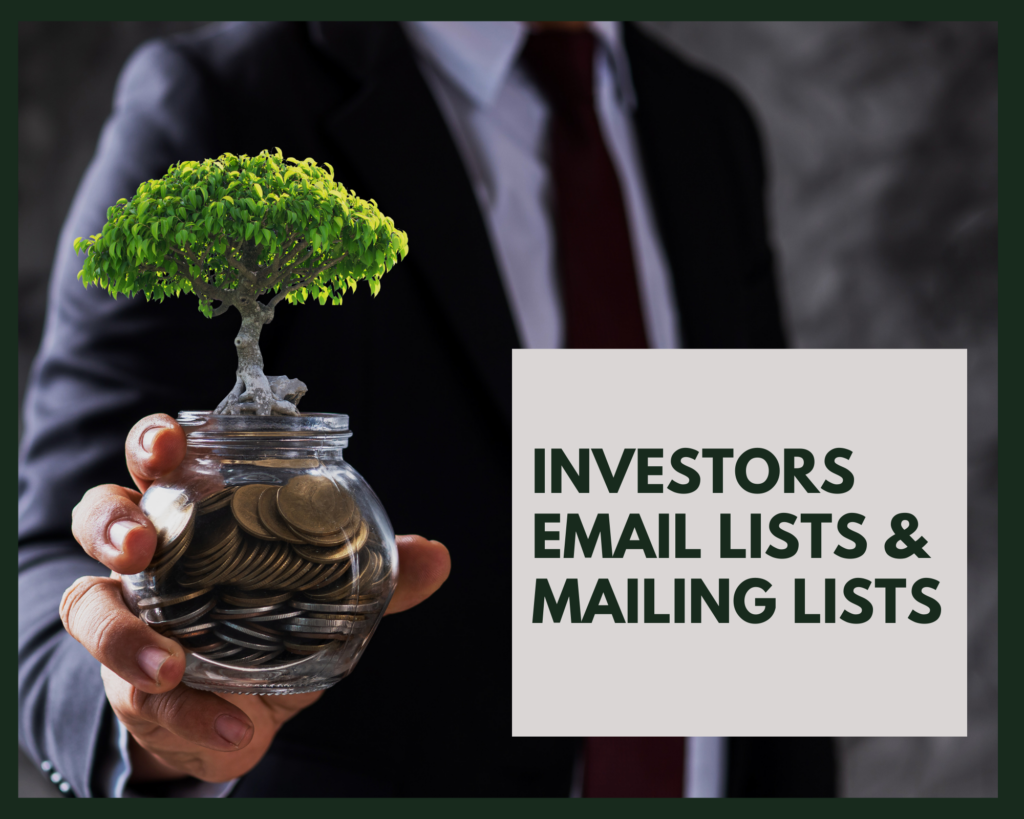 What is are Investors Email Lists & Mailing Lists?
An Investors Mailing List is a marketing list, that includes the Names and Mailing Addresses of people who Invest.
LeadsPlease Investors, are People who have Invested money in the past 12 months. You can get a mailing list of everyone in our database who 'Invests', or you can narrow down by the type of Investments made:
General Investments
Foreign Investments
Personal Investments
Real Estate Investments
Investment in Stock / Securities
On average, how many Americans invest in the stock market?
According to a recent Gallup poll, about ~ 54% of Americans own stocks either directly or indirectly.
How do you know if someone is an Investor?
We know if someone is an Investor, from self-reported information. This includes self reported sources, such as:
Investor Websites
Investment Products
Questionnaires
Newsletters
Magazines
Investment Seminars
How accurate are LeadsPlease Mailing Lists?
We take great pride and care in the quality of our data so you can rest assured that you're getting quality, up-to-date information.
Our data team constantly checks, tests & cleans our data; therefore, our Customers can enjoy the highest accuracy and deliverability rates in the industry.
Our Consumer Mailing Lists are 95+% accurate and are updated daily.
Consumer Mailing List Formats
We offer 3 easy-to-use Mailing List Formats; we guarantee that you'll be able to use your mailing list, or we'll give you your money back!
Does the List include Email Addresses?
You can choose to add Email Addresses to your List.
We offer 3 List Options:
Direct Mail
Direct Mail + Email
Direct Mail + Email where available
For more information & pricing please visit this page : Buy Email Lists & Email Address Lists
How much does a Mailing List cost?
Mailing Lists start at $99.50 for up to 1,000 leads. The more leads you buy, the cheaper the cost per lead. Please visit our Mailing List Pricing page for more information.
How do I get a Mailing List?
You can purchase your mailing list on our website or with a List Specialist over the phone. On average, it takes about 5 minutes to build and purchase a Mailing List.
Other Helpful Resources
Investors Mailing List FAQs
[Q]I am looking for people most likely to invest in various business opportunities. Can I also select the net worth of the same people?[A]Yes there is an investments select on our demography page where you can filter by things like real estate investments or investments in stocks and securities etc.
[Q]Do you have a select for people that have invested in overseas business opportunities?[A]Yes we do. This select is available on the demography page under the option investments.
[Q]Can I get a credit rating for potential investors?[A]Yes you can. This select is available on the demography page. Credit data is deemed sensitive data and the list will be locked until you provide us with the artwork/PDF of the mail piece you will be using to mail to the list.