The DataWidget List API
The DataWidget is a List API, that allows you & your business to seamlessly integrate mailing lists into your website so that you can start selling lists online via your web-to-print application.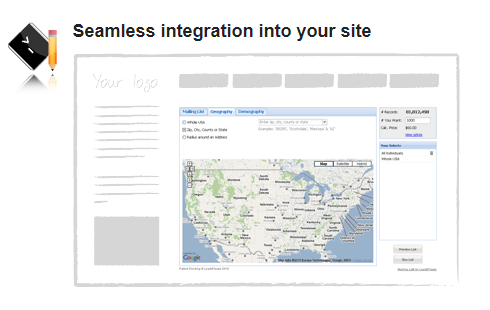 What does the DataWidget do?
The DataWidget enables your users to buy targeted direct mailing lists via your website, in real time.  It provides fast, real time counts and is the easiest mailing list prospecting tool available.
Consequently, you will sell more lists with your printed products when you use the DataWidget.
What Businesses Use the DataWidget?
Printers, Franchises, Dealers, Mortgage Brokers, Insurance companies, Home Services, Restaurants and Marketing companies all love the DataWidget,
So, any business that has a web-to-direct-mail website can benefit from embedding our List API into their site.
Make Instant Margins
Lists are sold through your ecommerce website at your retail prices and purchased from us at wholesale prices. So after you embed the DataWidget into your website, you can instantly start making money from data sales.
Zero Setup Costs
The DataWidget is free to install , with no contracts and no commitments.
Flexibility
We offer 100's of millions of rows of top-quality Consumer and Business data, so your Users can rest assured that they are purchasing accurate, up to date lists.
Furthermore, if you want to use a different database, that's no problem. You can add specialty databases quickly and easily with the DataWidget and can switch on and off 100's of demographics.
There's also a DataWidget with Checkout.
Fast and Easy to Use
Usability is a top priority, so Users love the DataWidget because it's fast and easy to refine counts and do research in real-time. Our Clietns love us because they sell more mailing lists with the DataWidget and make more money.
LeadsPlease+ is Marketing Made Easy
LeadsPlease+ is an easy to use, all-in-one marketing platform that has everything you need to market your business and boost sales.
It's the quick and easy way to engage, connect, build relationships and grow your business…all in one place.
LeadsPlease+ includes: Contact Management, Email Marketing and Automation, Social Media Marketing, Sales Leads Prospecting Tool, and Direct Mail web-to-print products.
Contact Management & Task Tool
You need to get stuff done! Leadsplease+ gives you powerful task and contact management capabilities so you can capture and organize information about contacts, campaigns, deals, and more. It's a beautiful way to increase productivity and simplify the way you work.
"Leadsplease+ is a game changer for my business. My productivity is through the roof. Seriously awesome."
Email Marketing & Automation
Easily create bold, high-impact, emails that look great and deliver results. Better yet, easily add signup forms and automated emails to capture, convert, build customer relationships, and boost sales.
"Leadsplease+ is the easiest way to create incredible marketing campaigns in minutes – my team thinks I'm a marketing rock star"
Social Media Marketing
Do it faster and easier… our social editor makes it super simple to schedule, release, and track social posts, so you maintain a consistent presence on social and build your following and influence.
"So simple to quickly and easily schedule posts and publish them automatically. Love it."
Sales Leads Prospecting Tool
With more than 10+ million records in our national Business database, you can easily create a quality business list to help you get your message in front of the right businesses and the right business contacts.
Print Marketing & Direct Mail
Google AdWords & SEO Made Easy
Don't lose money and focus by trying to manage your Google AdWords & SEO marketing alone. Let us help you manage your Google AdWords & SEO so you can focus on other things.
Above all, we can help you grow your business and boost sales, with a well managed Google AdWords and SEO campaign.
LeadsPlease partners with  Greater Leads , a trusted AdWords & SEO Management Agency since 2008.
Together we can help you:
Manage AdWords and SEO digital advertising/marketing campaigns professionally.
Create and optimize landing pages.
Make the most of your AdWords advertising campaigns by having well designed landing pages.
Provide a digital marketing strategy.
Grow your business by increasing leads and conversions.
Get more customers and boost sales through expert AdWords & SEO management.
Contact Us for more information and pricing.
Landing Page Design & Optimization
We have 10+ years experience in designing, and optimizing eye-catching, successful landing pages so through skillful design and optimization, we can help to increase your click through rates and help you boost sales.
What is a Landing Page?
A landing page is the page a visitor lands on, after they click on your online Ad. The goal of a landing page, is to generate sales or capture leads.
Landing Pages Can Help you Increase Sales
If you're spending money on Google Ads, you should definitely have a targeted, well designed landing page for each Ad. Well orchestrated landing pages can therefore help you increase clicks, acquire more customers, and increase sales.
We specialize in designing powerful, eye-catching landing pages that drive results. Whether you have no landing pages at all, or you're a landing page expert that needs help on projects or supplementing your current landing page portfolio, we can help.
Contact Us to speak with a Landing Page Expert.
What is Landing Page Optimization?
Landing Page Optimization is the process of testing and adjusting elements of your landing pages to increase clicks and click through rates.
Small changes to your landing page, can make HUGE differences to your bottom line.
We specialize in landing page optimization and can work with you to test, and adjust your pages so that they start driving results.
Contact Us to speak with a Landing Page Expert.