Get a Nurse Email & Mailing List and connect with Licensed Practical Nurses (LPNs), Registered Nurses (RNs), Certified Nurse Assistants (CNAs) and Masters of Science in Nursing (MSNs) anywhere in the USA.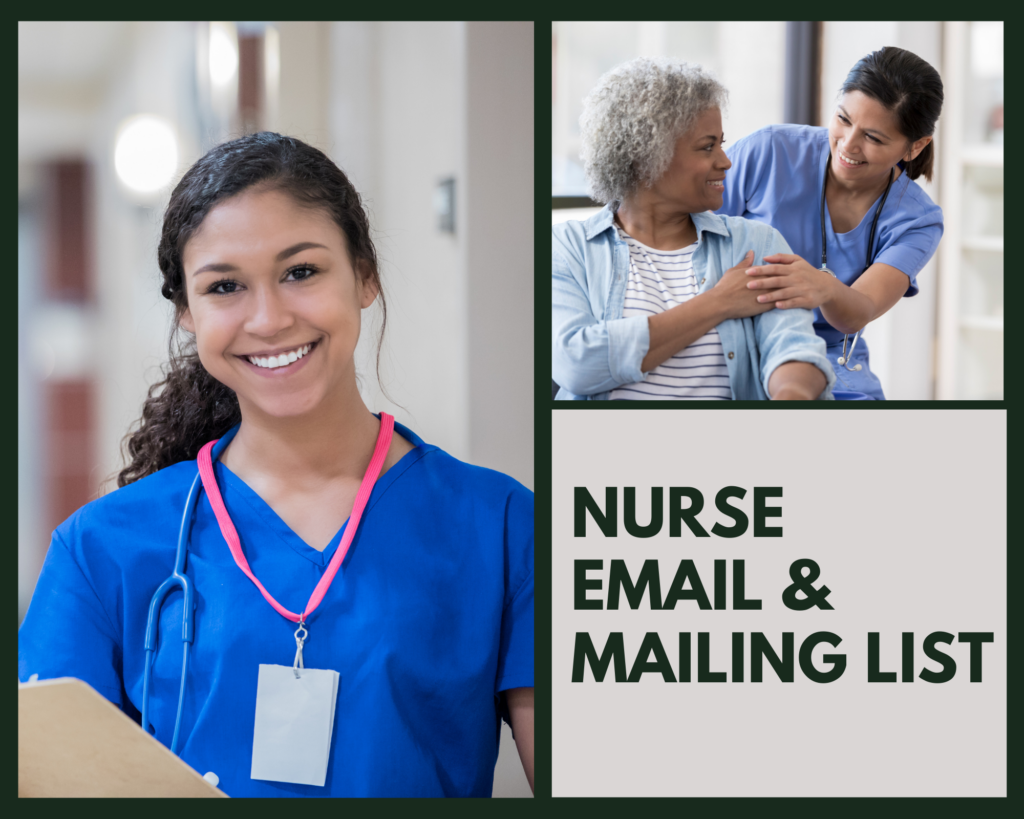 What type of Nurses can I search for?
We can help you search for and get a mailing list of 'All Nurses', or you can narrow your list down to specific Specialties:
Licensed Practical Nurses (LPNs)
Registered Nurses (RNs)
Certified Nurse Assistants (CNAs)
Masters of Science in Nursing (MSNs)
Do you provide Nurses' Home and Work Addresses?
Yes! We offer both Home and Work Addresses.
What information is included in the Mailing List?
Nurse's Full Name
Specialty
Street Address
City
County
Zip
State
Age (optional)
License Year (optional)
Email (where available)
What Businesses can benefit from marketing to Nurses?
Recruiters and Businesses offering medical-related products and services can benefit from using this type of mailing list:
Nursing Educational Programs
Recruiters
Medical Uniform and "Scrub" Companies
Hospitals
Nursing Homes
Assisted Living Facilities
Pharmaceutical Companies
Medical Device Companies
Medical Conferences
Physicians' Offices
Why are Nurse Mailing Lists so important for Educational Institutions that offer Nursing Educational Programs?
Licensed Practical Nurses and Registered Nurses are often very interested in pursuing a higher education.
LPNs and RNs are eager to become Clinical Specialists, Nurses Anestheists, Midwives and Nurse Practioners.
Nurse Mailing Lists are therefore, extremely important for Universities and educational institutions that want to advertise their higher education Nursing Education Programs.
How do you know if someone is a Nurse? How accurate are your lists?
Our Nurse information is sourced from a specialty Healthcare Professional Database that is compiled from State License information.
So, you when you purchase a LeadsPlease Nurse Mailing List, you know that it is coming from a highly reliable source, and is over 95+% accurate.
Do these Lists include email addresses?
You can choose to 'add' email addresses to some Nurse Lists.
Please Contact Us for more information and pricing.
Why Should I Buy a LeadsPlease List?
| | |
| --- | --- |
| LeadsPlease Consumer Mailing Lists | You Win |
| Voted "The Best List Broker Services of 2020" | Only trust the Best! Get your List from Business.com's voted "Best List Broker" |
| 95+% Accuracy Guarantee | Don't waste time & money on bad leads. |
| 210+ Million Prospects in the USA | Find the right prospects using the largest database |
| 3 easy-to-use list formats | Don't worry; we guarantee that you'll be able to use your list or we'll give you your money back! |
| Instant Download | Save time; get your list in minutes |
| Happy Customers | 1000's of Happy Customers use LeadsPlease to grow their businesses. Start growing your business too! |
How do I order a Nurse Mailing List?
For more information, please either click the button below and Contact Us online, or give us a call and we'll be happy to help : 1 866 306 8674
Other Helpful Resources
Nurse Mailing List FAQs
[Q]Can I get the home address of the Nurses I select in my list?[A]Yes you can. We can provide both home and business addresses.
[Q]Can I get a list of nurses that specialize in different kinds of nursing?[A]Yes you can. Call us +1 866 306 8674 and we can help you order your mailing list.
[Q]Can I get a mailing list of nurses with specific academic qualifications?[A]Yes you can. We offer Nurse qualifications like RN (registered nurse), CNA (certified nurse assistant), MSN (master of science in nursing etc.