Doctor Email Lists & Doctor Mailing Lists help businesses connect with Doctors and healthcare professionals across the USA.
These accurate marketing Lists are the ideal choice for companies offering healthcare related products and services who want to get in touch with doctors, surgeons, and physicians anywhere in the USA.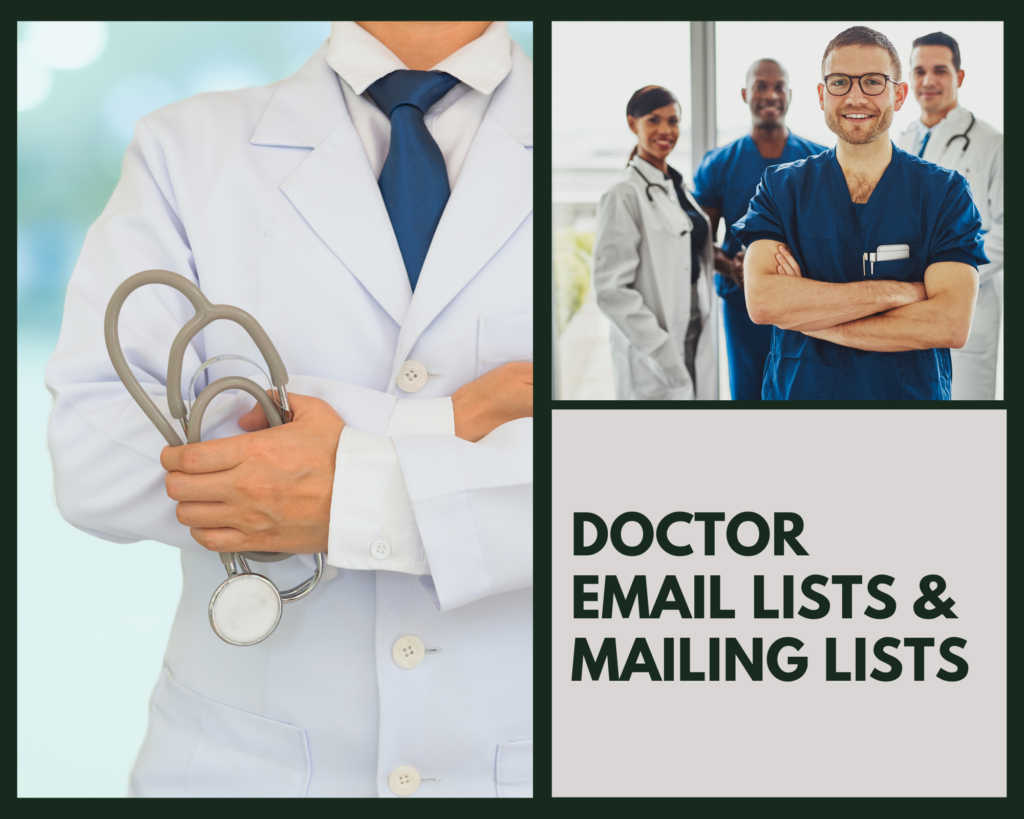 What type of Doctors can I search for?
We can help you search for and get a mailing list of 'All Doctors', or you can narrow your list down to specific Specialties:
All Doctors of Medicine
General & Family Practice Physicians
Allergy
Pulmonary
Sports Medicine & Injury
Occupational & Industrial
Rheumatology
Infectious Disease
Fertility
Geriatric
Thoracic
Diabetes
Emergency Services
House Calls
Osteopathic
Podiatrists
Naturopathic
Metaphysicians
Physician Assistants
Oriental Medicine
Do you offer Physician Email Lists?
Yes ! We do offer Email Lists of Doctors.
You can buy Doctor Email Lists on our sister website www.emailsplease.com.
Doctor Email Lists start at $250.00 for 500 Leads.
How accurate are your Doctor Email Lists?
Our Physicians email database is extremely accurate.
Updates are made to the physician email database multiple times throughout the year, and sometimes on a daily basis as new information becomes available.
The Name of the Doctor, and the Postal Mailing Address are 90+% accurate (when mailed within 30 days of purchase), and the Email Address is 80+% (when used within 72 hours of purchase.)
We boast some of the highest accuracy rates in the industry, because we clean and update our physician email database so frequently.
Are you a Doctor looking for new Patients?
If you are a Doctor looking for new patients, we can help you!
Our Consumer Mailing Lists include the Names & Addresses of new prospective patients who live near your office.
Build and download a Consumer Mailing List online in minutes.
What information is included in LeadsPlease Doctor Mailing Lists?
Doctor / Physician / Surgeon's Full Name
Title
Specialty
Physical Mailing Address
Telephone Number
Company Name
Employee Size
Sales Volume
Number of Professionals
Email Address (where available)
What Businesses can benefit from our Doctor Mailing Lists?
Businesses offering the following medical-related products and services can benefit from using our doctor mailing lists:
Medical Equipment
Pharmaceuticals
Website Design
SEO Services
Business Management Software
Staffing Companies
Medical Conferences
Promotional Materials
Why should I buy Doctor Email Lists from you?
Here are just a few reasons why you can trust LeadsPlease and why you should buy Doctor Email Lists from us :
Voted Best List Broker by Business.com
Accurate, up-to-date Physicians Email Database
3 Easy to Use Mailing List Formats
80+% Valid Email Addresses
100% Replacement / Refund for Invalid Email Addresses
4.9 out of 5 Star Google Rating
How do I order a Doctor Mailing List?
You can purchase a list of Doctors online, or you can give us a call and we'll be happy to help : 1 866 306 8674
Other Helpful Resources
Doctor Mailing Lists FAQS
[Q]Can I search for different kinds of Doctor?[A]Yes you can. If there is a specialty you can't find on our website please fill in a contact request form https://www.leadsplease.com/contact and we will research it for you.
[Q]Can I elect to have multiple contacts in a Doctor's Office?[A]Yes you can. Just select the multiple contacts tab, highlight it and click 'add'.
[Q]How can I get only small Doctor practices?[A]You could narrow down your search by number of employees or filter by excluding franchised or chain practices.