Dentist Email Lists & Mailing Lists connect dental related businesses with Dentists and Dental Professionals across the country.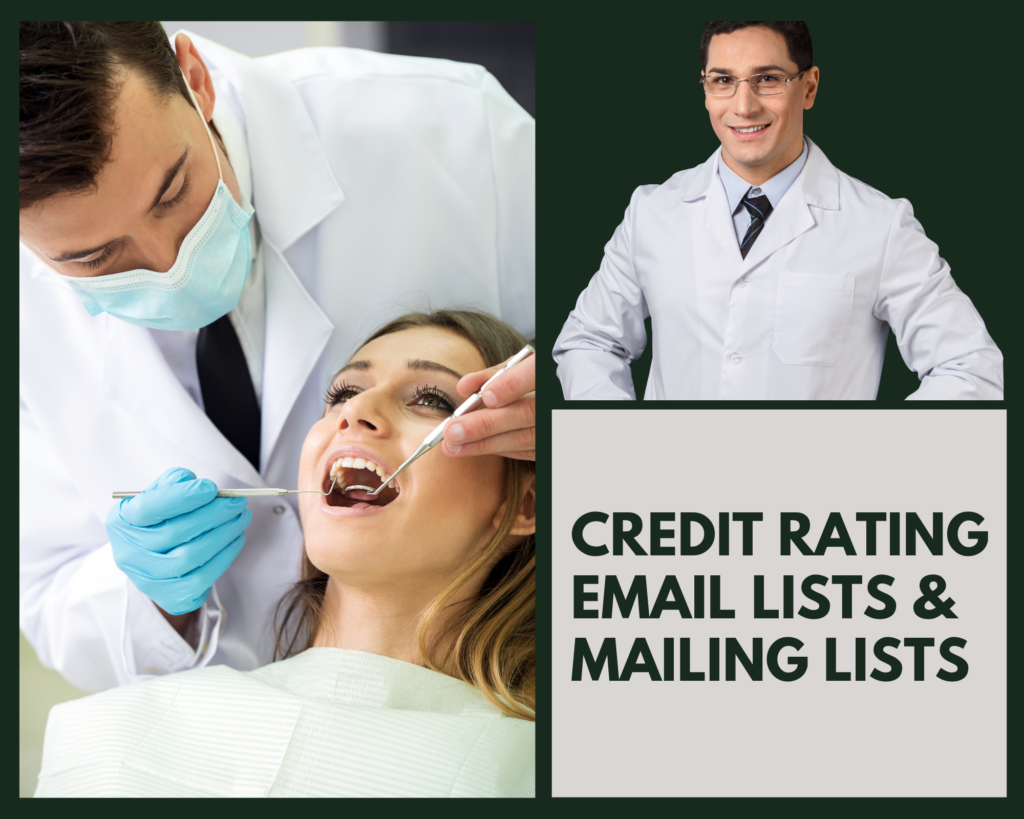 What types of Dentists can I search for?
We can help you search for and get a mailing list of 'All Dentists', or you can narrow down by their specific Specialty:
Dental Public Health
Endondontics
General Dentistry
Oral & Maxillofacial Surgery
Oral Pathology
Orthodontics
Pediatric Dentistry
Periodontics
Prosthodontics
Are you a Dentist looking for New Patients?
If you are a Dentist looking for new patients, we can help you!
Our Consumer Mailing Lists include the Names & Addresses of new prospective patients who live near your office.
Build and download a Consumer Mailing List online in minutes.
Can I target Dentists based on demographics like Age and Gender?
Yes! You can choose to get a list of 'All Dentists', or you can narrow down by any of the following criteria:
Age
Gender
Interest & Hobbies
Language
Attended Medical School
American Trained
Hospital where the Dentist did their Fellowship
Year of Fellowship
Year of Graduation
Association Affiliations
Medical Network Affiliations
Professionals with NPI Numbers Only
Professionals with UPIN Numbers Only
Professionals with DEA Numbers Only
Sates of License
Office Size (Number of Professionals)
Number of Prescriptions Written per Week
Number of Patients Seen per Week
Office Manager Name
Can I target Dentists at their Home Address?
Yes! You can choose to get the Dentists' Business or Home Address.
The majority of Dentists provide their Business address on their state license, however, in some cases we also know their Home address.
What information is included in a Dentist Mailing List?
Dentist's Full Name
Title
Specialty
Type of Practice
Gender
Physical Mailing Address
Telephone Number
Company Name
Employee Size
Sales Volume
Number of Professionals
Do your Dentist Email Lists include one or more Email Addresses for each business?
You can choose how many email addresses you receive on your list.
You can choose to get one email address for each Dentist Office or 'Multiple Contacts per Location'.
For more information & pricing please visit this page : Buy Email Lists & Email Address Lists
How do I order a Dentist Mailing List?
To order a Dentist Mailing List, please either Contact Us online, or give us a call : 1 866 306 8674
Other Helpful Resources
Dentist Mailing Lists FAQs
[Q]Will I get the dentist's home or business address?[A]You can select either one.
[Q]Will I get telephone numbers in the list?[A]Yes you will.
[Q]How will I know what kind of Dentist I will be getting?[A]When you get to the count result page on our website you can click on 'See my leads'. You will see a column headed 'secondary sic description'. Here can can see what kind of Dentist they are.