Software Developer Email Lists and Mailing Lists help connect you with the companies and masterminds who build and fix innovative new programs and applications that we use daily in our modern world.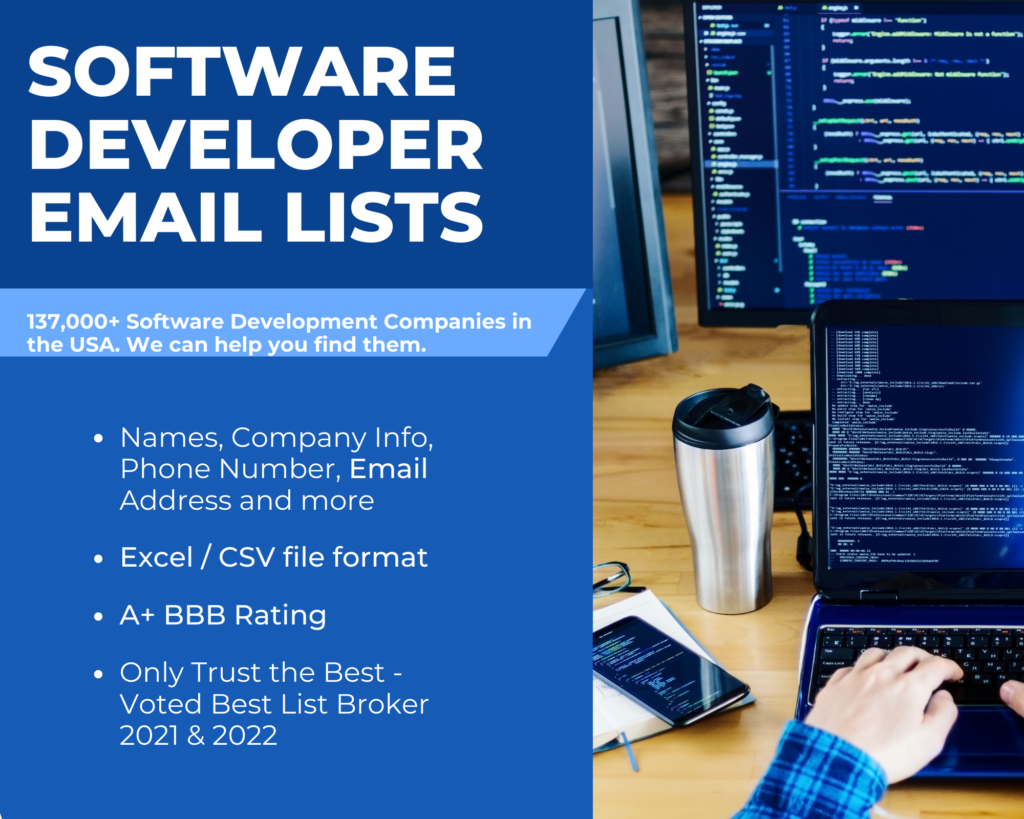 What is a Software Development company? What do they do?
Software developers use programming knowledge to invent, create, and design software, apps, games and programs.
Software developers write code, design new projects and applications and improve code for programs that are already up and running. (Money.com – What is a Software Developer?)
As our world craves and uses more programs, apps and games, our need for software developers continues to boom. According to US News & Careers, Software Developers are ranked # 5 in 100 Best Jobs.
What are some common Job Titles for Software Developers?
Some of the most common occupational titles for people working in Software development are:
Software Engineer
Systems Engineer
Software Designers
Developer
Infrastructure Engineer
Software Architect
Application Developer
Can I get a list of individual Programmers & Software Engineers?
Yes! Please Contact Us for more information and a quote.
What is the SIC Code or NAICS Code for Software Developers & Programmers?
Our LeadsPlease website uses SIC Codes, not NAICS codes.
The SIC Code for Software Developers and Programmers falls under the category for Computer Programming & Other Computer Services, SIC Code 737.
Can I get a list of Software Developers who are proficient in specific programming languages?
No, sorry. There's no way to search for Software Developers by the programming languages that they are proficient in.
However, most well educated and experienced Software Developers should be proficient in most or all of the following software programs and programming languages:
JavaScript
CSS
HTML
Python
PHP
C++
Java
Apache
Linux
How much does it cost to get a List?
Business Email Lists start at $250.00 for 500 Leads. The pricing per Lead goes down, the more Leads you buy.
| # RECORDS | PER RECORD | TOTAL |
| --- | --- | --- |
| 500 | 19.95c | $ 99.75 |
| 1000 | 17c | $ 170.00 |
| 2500 | 16c | $ 400.00 |
| 5000 | 12c | $ 600.00 |
| 10000 | 8c | $ 800.00 |
What contact information is included in LeadsPlease Software Developer Email Lists?
These contact lists include the following key contact information for decision makers at each company:
Software Developer Company Name
Telephone Number
Mailing Address
SIC Code & Description
Demographics if available (ex. URL, Number of Employees, Annual Sales Volume etc)
Contact Name
Contact's Title
Contact's Email Address
How accurate are your email marketing lists?
Quality and accuracy are our number one priority. The software engineers email lists are update multiple times throughout the year, and phone verified. Industry standard accuracy rates are about 70-80%.
Although we go to great lengths to frequently clean and update our business databases, they will always contain a small number of undeliverable mailing addresses & emails, out of date information and data errors that are beyond our control.
On average, when you purchase a business email database, you can expect to receive the following accuracy rates from your mail & email marketing campaign:
Business Mailing Address & Demographics – 90+%
Contact's Email Address – 80+%
What deliverability can I expect?
If you purchase a Business mailing list from LeadsPlease, you can expect a 90+% deliverability.
So, if you send your direct mailers to the list within 30 days of purchase, we guarantee that 90+% of your mailers will be delivered to the correct address.
You can read more about our Deliverability & Accuracy on our Data Quality page.
How do I get a list of Businesses in my area?
Select the geographical area that you want to include. Get Business Mailing Lists by Zip Code, City, County, State or using a radius around your address.
Select the type of Businesses that you want to include.
Order online with a credit card & Download your Business to Business Mailing Lists!
Why Should I Buy a LeadsPlease List ?
Business Email Lists are not all the same.
There are a lot of lead generation companies out there, but not all of them are 'great' or high-quality. Some companies don't update and maintain their business databases often, and sell old, out of date information that can severely impact your marketing campaigns.
If you need an accurate, up to date list of emails, choose a trusted lead generation business, like LeadsPlease.
LeadsPlease Lists can help small business owners reach their target audience and boost their marketing efforts without breaking the bank. Our affordable, accurate lists lead to increased email signups, new subscribers, and more website visitors.
But don't just take our word for it. Business.com has voted LeadsPlease as being the Best Overall List Broker for the last 2 years in a row! If you want an accurate sales leads list, more sales leads and new customers, choose LeadsPlease Lists.
| | |
| --- | --- |
| LeadsPlease Business Mailing Lists | You Win |
| 90+% Accuracy Guarantee | Only trust the Best! Voted Best List Broker service, by Business.com ! |
| 10+ Million Businesses in the USA | Find the right prospects using the largest database |
| 3 easy-to-use list formats | Don't worry; we guarantee that you'll be able to use your list or we'll give you your money back! |
| Instant Download | Save time; get your list in minutes |
| Happy Customers | 1000's of Happy Customers use LeadsPlease to grow their businesses. Start growing your business too! |
Other Helpful Resources
Happy Customers Growing Their Businesses with LeadsPlease Mailing Lists
Software Developer Email Lists FAQs
[Q]What if I don't want email addresses? Can I purchase a software developers mailing list to use with a direct mail campaign?[A]Yes! You can purchase a mailing list without email addresses.
[Q]If I purchase an Email List, will all the email addresses be opt-in?[A]Yes. All our Consumer Email Lists are 100% opt-in.