Home Value Email Lists & Mailing Lists help businesses connect with Homeowners anywhere in the USA, based on the Homeowners' current estimated Home Value.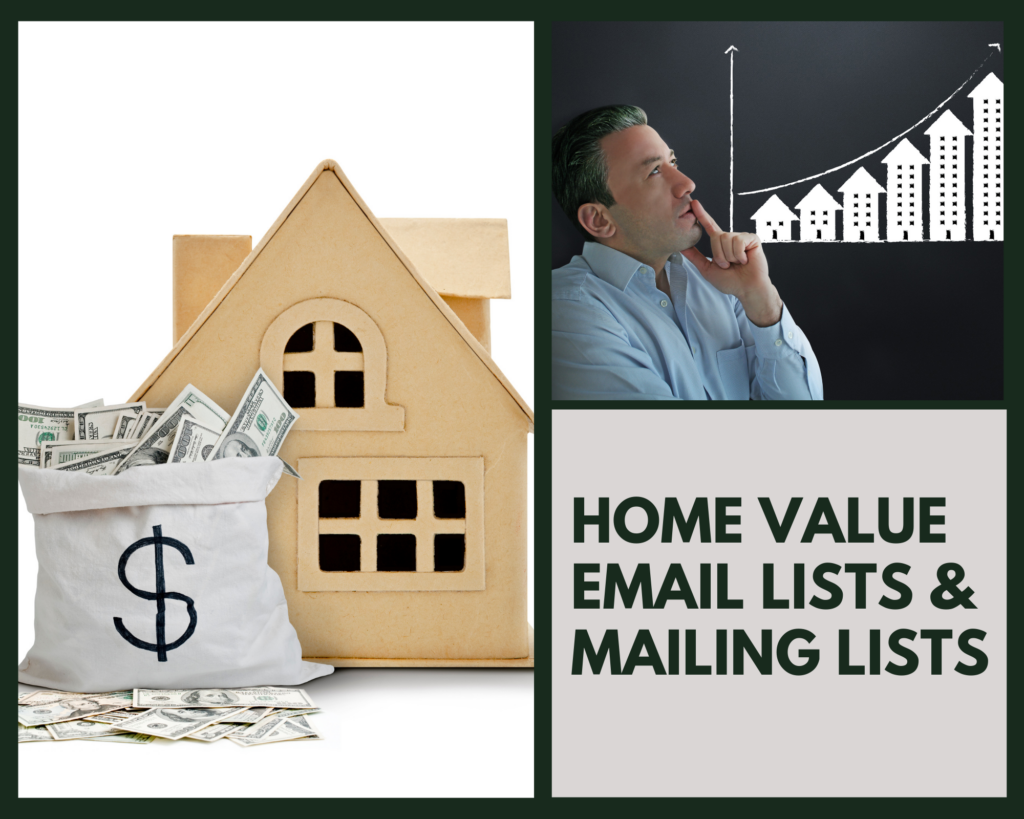 What are Home Value Email Lists & Mailing Lists?
Home Value Mailing Lists are marketing lists of Homeowners anywhere in the USA, based on their current estimated Home Value.
Target Homeowners who have a low or high Home Value:
$1,000-$24,999
$25,000-$49,000
$50,000-$74,999
$75,000-$99,999
$100,000-$124,999
$125,000-$149,999
$150,000-$174,999
$175,000-$199,999
$200,000-$224,999
$225,000-$249,999
$250,000-$274,999
$275,000-$299,999
$300,000-$349,999
$350,000-$399,999
$400,000-$449,999
$450,000-$499,999
$500,000-$749,999
$750,000-$999,999
$1,000,000 +
What types of businesses could benefit from using Home Value Mailing Lists?
Home Value Mailing Lists are particularly popular with Realtors. Realtors need to stay in constant contact with Homeowners in their area, and one of the best ways to do that, is with direct mail and targeted mailing lists.
Realtors
Retail Stores
Interior Designers
Home Remodeling & Renovations
Banks
Loan Officers
Mortgage Marketers
Insurance Providers
Refinance Opportunities
Credit Card Companies
Home Improvement Loans
Can I get a list of the most expensive Homes in my area?
Yes! We can help you reach Homeowners who own the most expensive Homes in your area.
Home Value is an important reflection of wealth and stability. If your business offers an expensive service or product and it's important for you to reach wealthy households that can afford your services, then you may want to consider including Home Value as a criteria on your mailing list.
How accurate are your Mailing Lists?
We take great pride and care in the quality of our data so you can rest assured that you're getting quality, up-to-date information.
Our data team constantly checks, tests & cleans our data; therefore, our Customers can enjoy the highest accuracy and deliverability rates in the industry.
Our Consumer Mailing Lists are 95+% accurate and are updated daily.
Does the List include Email Addresses?
You can choose to add Email Addresses to your List.
We offer 3 List Options:
Direct Mail
Direct Mail + Email
Direct Mail + Email where available
For more information & pricing please visit this page : Buy Email Lists & Email Address Lists
How much does a Mailing List cost?
Mailing Lists start at $99.50 for up to 1,000 leads. The more leads you buy, the cheaper the cost per lead. Please visit our Mailing List Pricing page for more information.
How do I get a Mailing List?
You can purchase your mailing list on our website or with a List Specialist over the phone. On average, it takes about 5 minutes to build and purchase a Mailing List.
Other Helpful Resources
Home Value Mailing Lists FAQs
[Q]I am a realtor and want to target people with high home value houses in a specific zip code. Is this possible?[A]Yes it is. You can filter by city, county, zip code, state or all states. You can also use our radius around a physical address tool to define geographic selects.
[Q]Can I filter by how much people paid for their homes and by the current value of the home and does this cost more?[A]Yes you can filter by the home purchase price and by the estimated home value. No it does not cost more to add demographic selects. You can have as many as you need.
[Q]Can I filter by net worth as well as home value?[A]Yes you can. Net worth is considered sensitive data and requires a marketing review.