An accurate USPS Mailing List can help you advertise your Business, find new customers, and boost sales.
What is a USPS Mailing List?
A USPS Mailing List is a list of names and US postal mailing addresses, that are used for marketing purposes.
USPS mailing lists are commonly divided into the following categories:
Consumer Mailing Lists (Residential)
Saturation Mailing Lists (All Addresses in an area)

Can I buy a mailing list from the Post Office?
Technically, no; you cannot purchase mailing list from Post Office.
According to the USPS website:
The Postal Service does not keep a database of residential or business customers and does not sell address lists.

USPS Business Mail 101
The post office, does however, offer a paid service called EDDM (Every Door Direct Mail), which include USPS mailing lists.
What is USPS Every Door Direct Mail (EDDM) ?
EDDM is a direct mail advertising service offered by the USPS for a fee. You design and print your mailing pieces, buy your mailing list and postage from the USPS website. and the Post Office will
How does the USPS Every Door Direct Mail (EDDM) program work?
These are the steps to create an EDDM campaign with the Post Office:
Design your direct mail piece
Print all your direct mail pieces
Go online and use the EDDM tool to select a list of residents/businesses that you want to send your mail to.
Pay for your list and postage on the USPS website
Go to a Post Office and drop off your direct mail pieces
The Post Office will deliver your direct mail
How do I get a mailing list from the Post Office?
Technically, you cannot buy a mailing list from the post office. But, if you want to send a direct mail campaign and use the Post Office's EDDM service, it includes a mailing list.
Here's how to get a mailing list from the post office with the purchase of an EDDM campaign.
What are the pros and cons of using USPS EDDM?
EDDM isn't for everyone.
It's laborious and very time consuming. But, if you stick with it, and don't mind mailing your advertisement to everyone in your area, then it might be for you.
Advantages of using EDDM
Great, low pricing, if you purchase a whole direct mail campaign – Marketing Flats (ex. Postcard) cost $0.20 per piece (USPS Website)
You can mail to entire postal Routes
No special mailing permit required
Option to pay with a bulk mailing permit
Disadvantages of using EDDM
It's a long, laborious process
No ability to purchase a mailing list on it's own. You have to purchase a whole direct mail campaign, which includes a list.
Cannot keep the mailing list.
You are responsible for designing your direct mail piece. The Post Office doesn't offer any Postcard design assistance
You have to Print your direct mail pieces yourself or with a Printer
USPS EDDM tool is hard to use; if you're not a computer whiz, it might not be for you.
No online Chat assistance
Long wait for Customer Service assistance by phone
Should I buy mailing list from USPS via their EDDM service or buy a mailing list from LeadsPlease?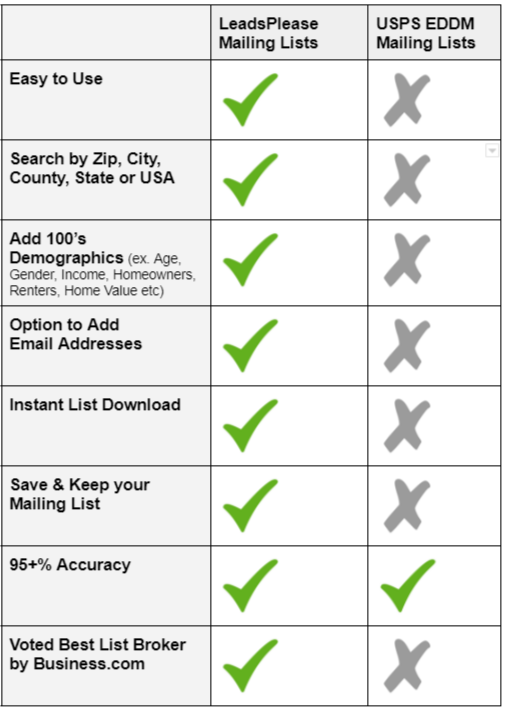 How much does it cost to get a USPS mailing list?
On average, it costs ~ $125.00 . The cost depends on the following:
Type of list you need
How many addresses you want
Vendor you purchase the list from
Accuracy of the list
LeadsPlease Consumer Mailing Lists start at $99.50 for 1,000 Names & Addresses. Click here for more Pricing.
Other Helpful Resources