Free print ready for mailing labels PDF converts your mailing list into a format so you can print your list on peel and stick labels yourself!

Any labels which are 30 on a sheet will work with our PDF. We email you the PDF file. We attach instructions about which labels work best and how to make any adjustments for printing. Call us if you need help. Our customer service team is ready to advise you.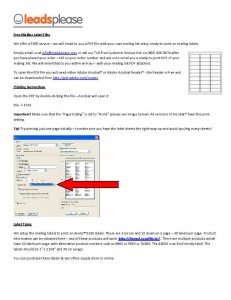 Call us with your order number for our Free Print Ready For Mailing Labels PDF : 866-306-8674 or email us : info@leadsplease.com or contact us
Ask us to "add or current resident" under the name & above the address to ensure that the mail piece is always left at the address and not returned to sender if the occupant has moved on. This will reduce the number of non deliverables returned to you. Maximize the impact of the mailing & minimize wastage.
Let LeadsPlease print & ship peel & stick mailing list labels for you.