Do you want to buy a Consumer Email List but you don't want to jump through a bunch of hoops or waste a lot of time talking to sales people on the phone? We hear you!
Here's a step-by-step guide with screenshots, to show you how to buy a Consumer Email List online in less than 5 minutes.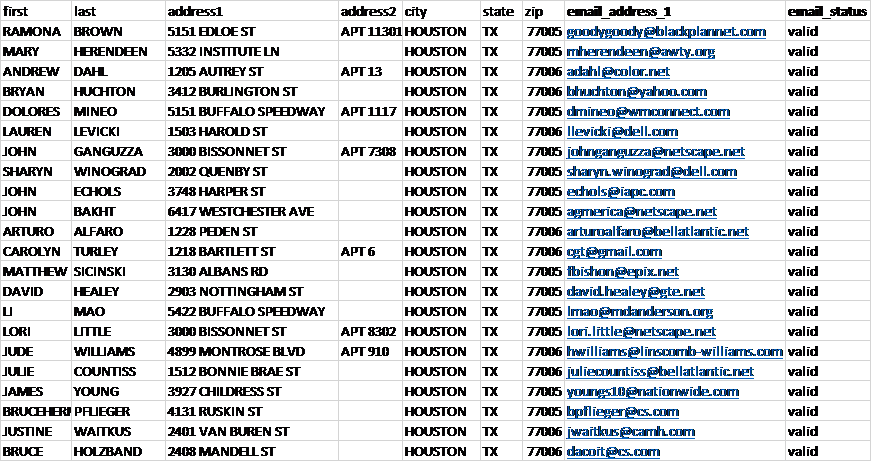 Step 1 : Select Consumer Email List
Under the Mailing List tab, and 'Who do you want to target?', select 'Consumer Emails'.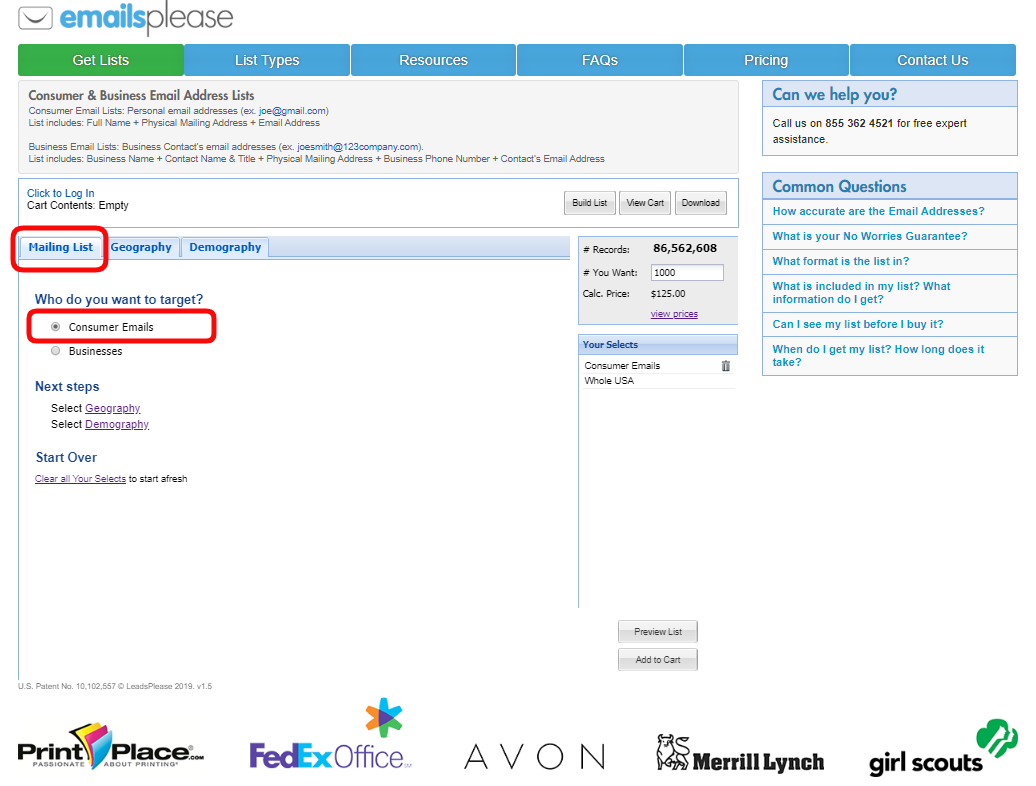 Step 2 : Select the Geography for your Consumer Email List
Under the Geography tab, you can select the area that you want to include on your list. You can select from:
Whole USA
Zip, City, County or State
Radius around an Address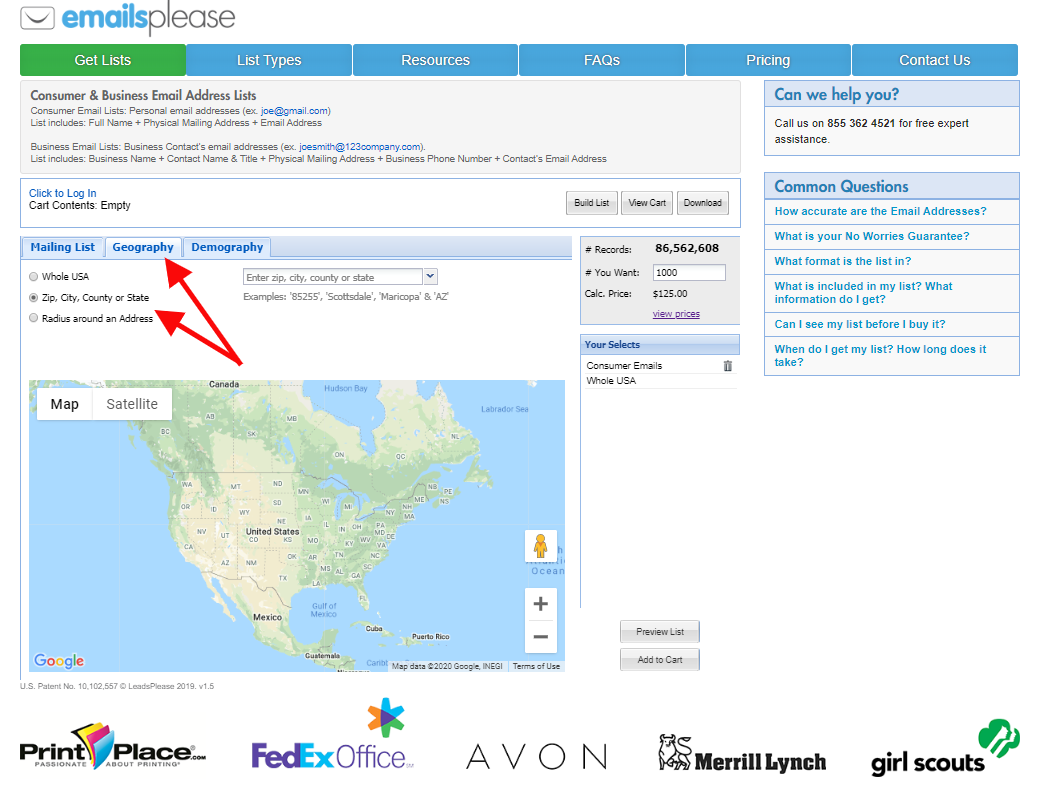 Step 3 : Select the Demography for your Consumer Email List
Under the Demography tab, you can select and add a variety of Demographics.
Building Structure (Apt/Condo, House, PO Box)
Income
Homeowner/Renter
Estimated Home Value
Net Worth
Presence of Children
Presence of Veteran
Swimming Pool
Most Recent Mortgage Type
Multiple Email Addresses per Household
Ethnicity
Education
Business Occupation
Age
Marital Status
Buyer Types
Interests & Hobbies
Lifestyle Types
Entertainment Types
Donor Types
You can add as many demographics as you like, at no extra cost. The cost of your consumer email list is based on the number of emails that you decide to buy, not on how many demographics you add.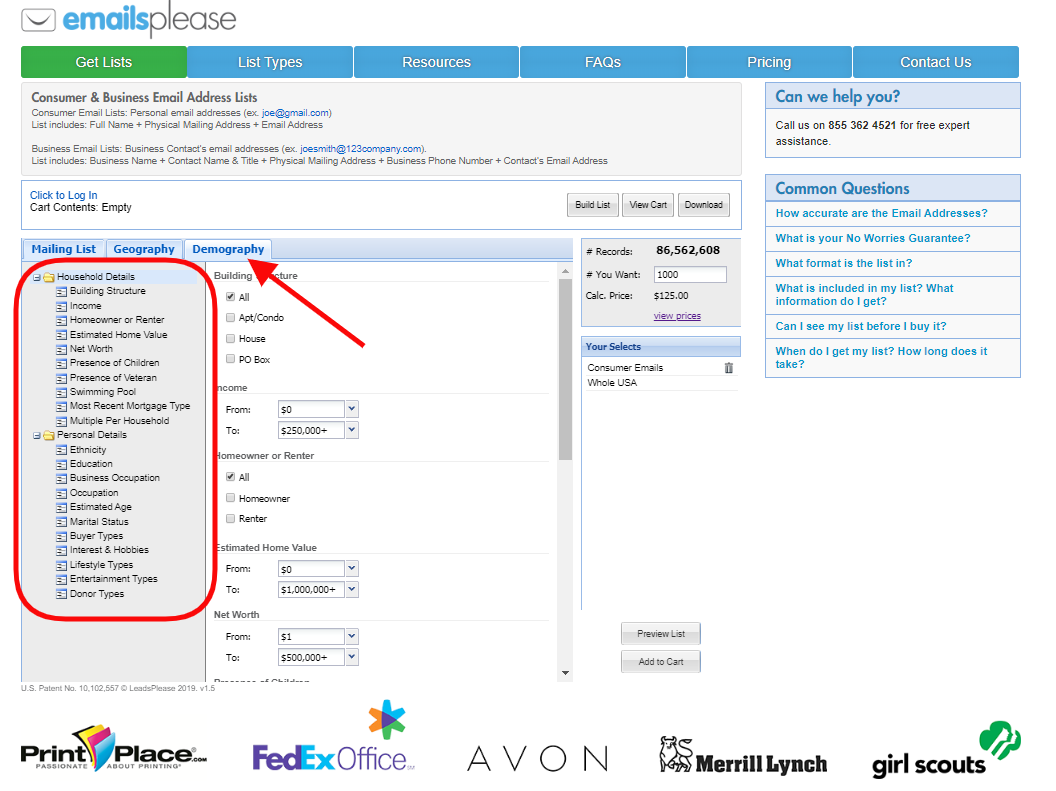 Step 4 : Select How Many Emails You Want
In the box '# You Want', you can edit the quantity of emails that you want to buy. Then click the button 'Add to Cart'.
Click here to see all Consumer Email Lists Pricing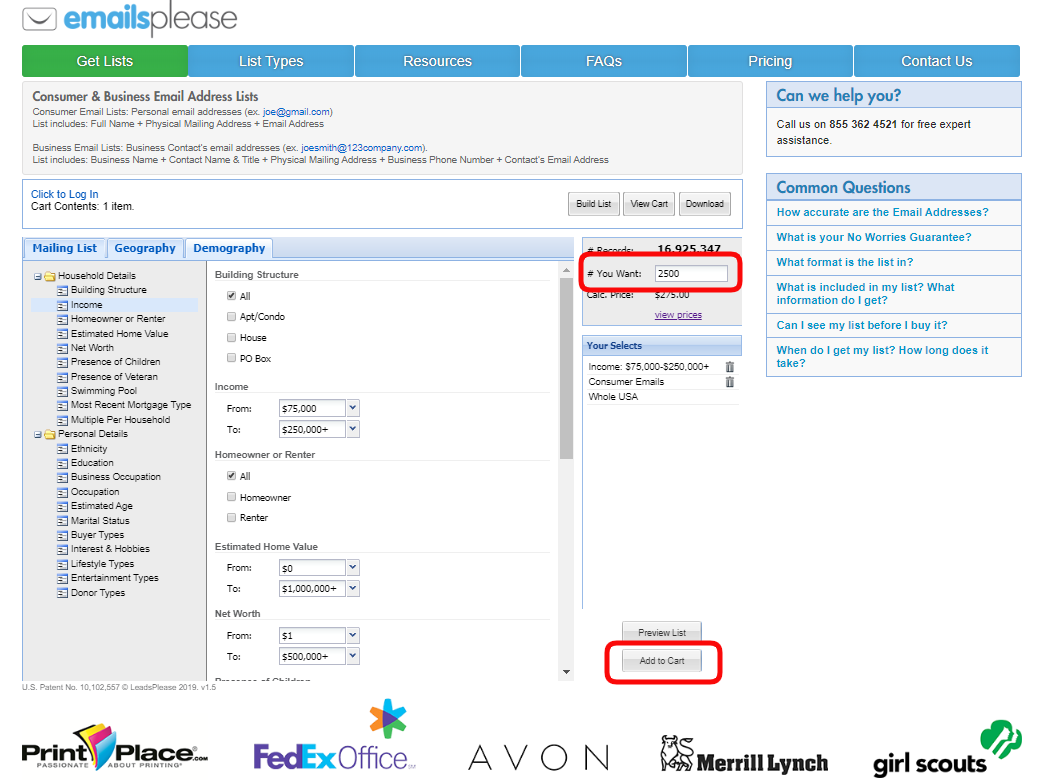 Step 5 : Checkout & Get Your List
When you're happy with your list, click 'Checkout' and place your order online.
After you place your order online, we clean your Consumer Email List one final time using NeverBounce. This final cleansing & verification process takes about 2-4 hrs during normal business hours. This process ensures that you only receive the most valid, up-to-date email addresses. After your list goes through this final cleansing and verification process, we will email you your cleaned-up list as an excel/.csv file. If we remove any email addresses, we will refund you back for the difference.
Step 6 : Start Email Marketing to New Customers!
Now that you have a great Consumer Email List, you can start email marketing to new customers!
Upload your list of contacts into your email program and send out a campaign, or you can forward the list to an accredited email service distributor who can send out the emails on your behalf.
Please Note:
We strongly suggest that you use a verified, accredited 3rd party email service provider to help you release your email marketing campaign.
MailChimp, iContact, HubSpot and Constant Contact do NOT allow you to upload/send to third party, bought lists, like ours.
If you're looking for a great email service where you can design emails and send out email campaigns to our email lists, we recommend trying our sister company LeadsPlease+
Other Helpful Resources