A thoughtful choice of stamp on a direct mail marketing piece  makes it personal and much more likely to be opened by the recipient.
Here's why a targeted mailing list will help keep your message personal and you will want a quality mailing list.
Here are 6 steps to a successful direct mail marketing campaign.
Create something personal and iconic.
The USPS has a Music Icon range which includes Janis Joplin & Jimi Hendrix for those 60's music lovers out there:
For the 'left bank lovers'
For the country music lovers there is: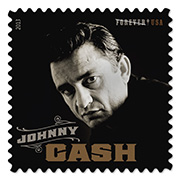 and: