5 ways retailers can attract last minute holiday shoppers.
Recent Gallup polls show that the average US Household will spend about $740 on Christmas holiday gifts this year. That's ~ a $35 increase from their November budget estimates, but it's still down in comparison to the average household spend in 2012. (Gallup) This means even more competition among retailers !
So attention all Retailers! Here are 5 ways to attract last minute Christmas holiday shoppers :
1. Extend your hours – Open early and close late!
2. Entice shoppers with an offer or discount that's hard to refuse.
3. Give away something for free! Even if it's a something small.
4. Offer a money-back-guarantee.
5. Offer different payment options, including Lay-Away for large purchases.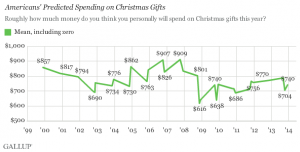 Use direct mail to let your customers know what to expect from your holiday offering.
Use an accurate up to date targeted mailing list and always have a compelling 'call to action'