Mobile barcodes who's using them?
Mobile Barcodes (otherwise known as QR Codes  / Quick Response Codes) are popping up all over the place.
You see them on direct mail postcards delivered to your door, on menus at restaurants, in newspapers & magazines, on advertisements at Museums and Airports etc etc. They're a 'hot' new marketing tool that's gaining in usage and popularity. They look like this:
ScanLife, one of the largest global providers of mobile barcodes, just released a quarterly report that indicates that in March 2013 they reached an all time high, of 6.7 million scans in just 1 month. You can see from this graph how the trend is growing exponentially, year after year.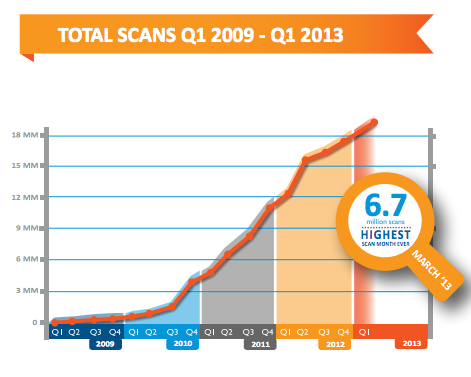 Here are some other interesting facts about Mobile Barcodes and who's using them, when they use them, and which ones are most popular: