Direct Mail – How to Keep Your Customer Coming Back for More
Your loyal, repeat customers help keep your business alive and booming. Don't forget about them. Direct mail is a simple, affordable and effective way to stay in touch. Keep your name fresh on their mind, and keep them coming back for more!
The '80/20′ Rule
Vilfredo Pareto, the most note-worthy Italian economist of the 20th century, introduced the proverbial '80/20 Rule' in the early 1900's. The '80/20 Rule' or the 'Pareto Principle', claims that '80% of your sales come from 20% of your customers'. So, if 80% of your business comes from the 20% that makes up your steady, reliable flow of repeat customers , shouldn't it be every business's goal to keep those customers happy and coming back for more?
Direct mail is a hard-hitting and affordable way to stay in touch with your customers. It's a simple way to show them that you care. Here are a few reasons to reach out and stay in touch:
Holidays are a simple and non-intrusive way to remind your precious customers that you care. You can wish them a 'Happy and Safe Summer' all the way through to a 'Happy New Year' and a 'Happy Valentine's Day'; any Holiday is a great excuse for you to stay connected with your customers and remind them of your services.
If you've surveyed your customers and have their birthdays on file, take advantage of the opportunity to send them special 'birthday' offers once a year. Unique 'Birthday' offers make your Customers feel important and special, and make the 'only for you' offers and 'super' discounts hard to refuse.
When you purchase your next mailing list or list of sales leads, ask for 'Birthdates' to be included, and attract new customers and prospects with hard-to-resist special Birthday offers.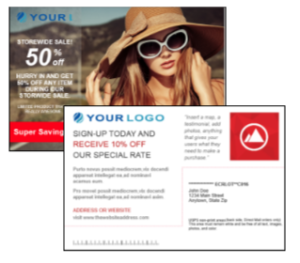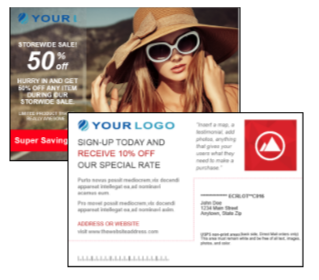 Seasonal promotions are a simple way to lure-in current and new customers, whether you're holding a 'Back to School' special or an 'Autumn Blow-Out Sale', special events and seasonal promotions are the #1 reason for small business mailings.
Keep your customers coming back for more with helpful tips and industry news/advice that your customers will find appealing and useful. Consumers indicate that 'Expertise / Industry Knowledge' as one of the 5 top items they consider when making a purchase. So don't be scared of boasting – show your customers what you know and boast away!
If you have a new product or are about to launch a new service, reach out to your customers and let them know about it! If they don't know it's there, how do they know to come visit you?
Customer News / Success Stories
Share your customers' news and success stories in your mail pieces and on your website.
Positive reviews are proven to help sell products!
Use case studies that illustrate the bought product and the success your customer's had with it.
Use short, helpful quotes that perfectly describes a product.
Make it easy to reach customer service.
Keep your contact details visible.
Post reviews on your website because there isn't a better form of marketing than loyal customers boasting and bragging about your company.
This spreads the word about your wonderful products & services.