How to target a community for direct mail.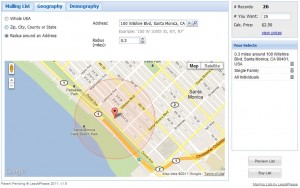 Our Customers ask us every day how they can best target a community for a mailing list campaign in their area and the answer is really very simple.
Go to the LeadsPlease website
Choose the radius around an address option on the geography page
Get a complete physical address somewhere in the middle of that community and start by drawing a small radius around it using the LeadsPlease website.
You can expand the radius or contract it depending on your budget. You can choose any number of miles or parts of a mile
Choose your demographic selects \
Review your order and checkout
Download your list instantly
It's that easy!
LeasdPlease can help with your research.  Contact us.